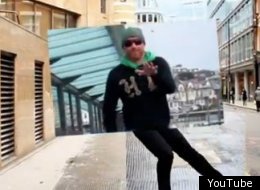 Crowd-sourcing your dance moves from fans is one way to get people to watch your video. And that's exactly what Graham Coxon did for the music video for the song "What'll It Take," due out on April 2 as part of his new album A+E.
Director Ninian Doff edited together footage that was submitted by 85 fans in 22 different countries to create the video.
The Blur guitarist's sneak peak video shows various shots of people dancing through the streets of London.
Taking crowd-sourcing a step further, Coxon also invited fans to nominate local bands to support him on his upcoming tour, according to the Doncaster Free Press.
According to the Sun, Coxon will be back performing with Blur on the last day of the Olympics at The BT London Live Closing Ceremony Celebration Concert on Sunday, August 12.