Katy Butler, 'Bully' Documentary Campaign Leader, Talks Personal Bullying Experiences, Thanks Celeb Supporters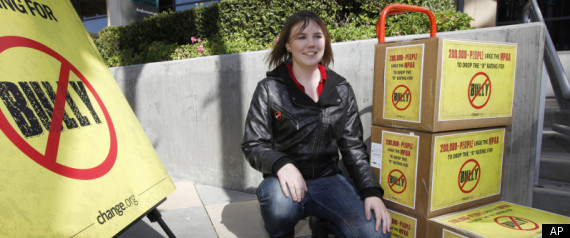 Katy Butler, the 17-year-old openly lesbian Michigan high school student whose campaign to get the Motion Picture Association of America to change the 'R' rating of the film Bully to 'PG-13,' has collected almost 300,000 signatures for her petition. She's been amazed by the response, though finds the attention bittersweet. She also praised Ellen DeGeneres, whose show she appeared on, as a hero to her and to so many other LGBT teens who've been bullied.
"I have been extremely surprised," she said on my radio program on SiriusXM OutQ of the response."It's wonderful that there's all this support, but it's also kind of sad that I'm getting this much attention for something that so many other people could be doing, too. Standing up to bullying is something a lot of people could do."
Twenty members of Congress have signed the petition, while celebrities like Justin Bieber have tweeted about it. Butler also appeared on The Ellen Degeneres Show to talk about the film, which is directed by Lee Hirsch and follows five students over the course of a school year and exposes the brutality of bullying, and includes language and violence which garnered the 'R' rating.
"Ellen DeGeneres personally is one of my heroes," she said. "It was absolutely amazing [to go on the show]. I mean, I definitely would not have had the courage to to this. I mean, come out to the world -- that's crazy! I would never have been able to do that without Ellen."
"If it ends up coming out on March 30 with an 'R' rating I want to make sure that every school in the United States knows how important it is to see this movie," Taylor said, discussing how she met with an MPAA official in Los Angeles though there is still no word from the organization on any rating change. "Kids can't go see it without a parent or guardian in the movies. Ideally it would be PG-13 but if worse comes to worst and it's not, then I definitely am going to push for this to be shown in schools everywhere.
Taylor was inspired to action after seeing the film and connecting with it.
"When I was in middle school I came out as a lesbian and not a lot of people liked that," she said. "They called me names and pushed me into walls and I ended up getting my hand slammed in a locker and breaking my fingers. I think the emotional part of it was worse than having my fingers broken. That healed, but for me and thousands of other kids, that's with you forever."
She believes the film will go a long way toward ending bullying. "I think it will make kids want to step in more," she said.

Listen to the full interview here:

Take a look at some recent bullying cases below:
Loading Slideshow
Tyler Clementi

The disturbing rash of LGBT teen suicides began receiving attention last fall. Among those who took their own life was Tyler Clementi, an 18-year-old Rutgers University student who jumped off the George Washington Bridge between New Jersey and New York after his roommate allegedly filmed him having sex with another man.

Seth Walsh

Seth Walsh, a 13-year-old California teen, hung himself in September 2010 after reportedly being bullied because he was gay.

Raymond S. Chase

Gay Rhode Island-based student Raymond S. Chase, 19, became the fifth in 2010's disturbing spate of teen suicides last fall.

Obama's Anti-Bullying Video

In October 2010, President Obama released a video in support of LGBT youth who were struggling with being bullied.

Pastor's Confession

In November 2010, Jim Swilley, the pastor of a Georgia megachurch, revealed to his congregation that he is gay. The 52-year-old father of four said the recent spate of teen suicides, particularly that of Clementi, prompted him to change his mind. "For some reason his situation was kind of the tipping point with me," Swilley told CNN's Don Lemon this weekend.

Daniel Radcliffe Honored

In June, "Harry Potter" actor Daniel Radcliffe was honored with the Trevor Project's "Hero" Award for his <a href="http://www.huffingtonpost.com/2010/02/26/daniel-radcliffe-speaks-o_n_478960.html" target="_hplink">ongoing suicide prevention efforts</a> for LGBT youth.

Jamey Rodemeyer

In September, Jamey Rodemeyer, a 14-year-old boy from Williamsville, N.Y., took his life Sunday after what his parents claim was years of bullying because of struggles with his sexuality, months after posting this "It Gets Better" clip on YouTube.

Lady Gaga's Dedication

After vowing to stop bullying and make it illegal, Lady Gaga -- a longtime advocate for LGBT causes -- dedicated a performance to Rodemeyer at the iHeartRadio Music Festival in Las Vegas. "I wrote this record about how your identity is really all you've got when you're in school," Gaga told the crowd. "So tonight, Jamey, I know you're up there looking at us, and you're not a victim. You're a lesson to all of us."

Bachmann Speaks Out

Days after being faced with a petition that urged her to publicly address gay bullying in her district, Rep. Michele Bachmann noted, "That's not a federal issue," according to CBS News. Previously, Tammy Aaberg, the mother of Justin Aaberg, a gay teen in the Anoka-Hennepin school district who committed suicide after having been bullied in area schools, delivered petitions to Bachmann's office asking her for support.

Jamie Hubley

Jamie Hubley, a gay 15-year-old from Ottawa, Canada, committed suicide Oct. 14. In this clip, the teen performs Mike Posner's "Cooler Than Me."

Hubley Tribute Video

Friends created a poignant tribute video to Hubley, the Canadian 10th grader who committed suicide on Friday.