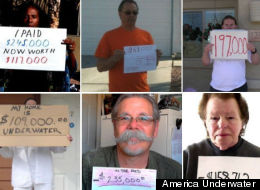 What does it mean to be an underwater homeowner?
"I paid $245,00 and now [my home] is worth $117,000," writes a senior citizen living in Phoenix, Ariz. "I will have to work until I am 95 to pay off my loan," writes another homeowner.
These are the stories that some Americans are sharing on a new Tumblr blog called America Underwater, which aims to chronicle the lives of people who are living in homes that have radically declined in value. These people now owe more on their mortgage than their homes are worth.
The Tumblr was launched this week by two advocacy groups: The New Bottom Line and Rebuild the Dream. Both are calling on President Obama to fire Federal Housing Finance Agency Acting Director Edward DeMarco. They recently launched a Tumblr blog, America Underwater, to bring faces to the housing crisis. The site invites readers to share photos and stories of how they're being affected by their underwater homes.
As the country still struggles with the fallout from the financial crisis, increasing numbers are finding themselves in this position. Nearly a quarter of homes with a mortgage were underwater at the end of 2011.
Please view the slideshow below, and if you're one of the 11 million Americans who are underwater, tell us.
"We are Bankrupt. Now living in an apartment. This house is in a short sale. Our family home was already foreclosed on last year. This one was our investment for retirement. All gone......"

"We have tried to sell our house a few times over the last few years. We paid $243,000 and now can sell for $160,000. We have two children and just wanted something bigger. We in process of a short sale. No fun. They say we will have to pay income tax on the $79,000. That is one of our biggest concerns.it seems rediculous considering the amount of money we have already lost. We probably put at least $35,000 into remodeling the house over the last 8 years. Thanks for listening to us. Hope something changes soon."

"We didn't game the system."

"UNDERWATER AND DROWNING..NO HELP IN SIGHT."

"Lost My Job. Lost My Florida Home. Living in Dubuque: I relocated to Florida to work for a bank. When the downturn hit, I lost my job. My former employer and mortgage holder refused to modify or re-finance while we continued to use all our savings and credit to pay the mortgage. They "lost" our modification application five times. Former colleagues at the bank told me confidentially to stop paying because they we're tossing any applications that weren't "in trouble". Finally we stopped paying, they started to foreclose and then we were able to sell the house short. Now I'm living in Dubuque. At 62, I've lost my life savings, have racked up $70K in debt and have borrowed on my 403B. I'll never recover, never retire, never stop shoveling snow."

"Put $100,000 down then made $150,000 in Improvements and we are upside down by $235,000 and the bank says what !!!... you want a principal reduction? What for????"

"-$50,000! My dad tried to get a Loan Modification and his file was 'in processing' for 2 year. He'd been in hospital for months. The stress of the foreclosure shut him down. He was buried the day they auctioned off the house. We couldn't even mourn him properly as we rushed to get his personal belongings out. The entire country's welfare and health cannot implode because of the housing industry people. Is this all America is? Corporations and Lobbyists. Really?"

"It's not a typo!! I'm $163,000 upside down on my home. I applied for MHA trying to get a principle reduction and a reasonable interest rate.. I was told I did not qualify... The best they could do was to extend my loan from 30 to 40 yrs, interest from 6.5 to 4.25.... All of the lenders expenses were dumped into my loan inflating it from $256,000 to $298,000.... All that was accomplished was reducing my monthly payment from $2100 to $1600... I will have to pay PMI for at least the next 15 years... I will have to work until I am 95 to pay off the loan!!... Worst part is I paid nearly $5,000 to a law firm specializing in 'negotiating' with lenders to get this.. Zillow says my house is now worth $133,000.... Five years ago it appraised at $279,000."

"We need this fixed."

"Our home was destroyed in the 2010 flood here in Nashville- Our bank REFUSED to modify our loan- and put us in foreclosure. Here's what's left of my house . . oh, and we COULD NOT purchase Federal Flood Insurance at the time of the loan ..."

"I am a senior citizen who owes more on my home than it is worth. Despite good credit history and making all payments on time, the lender won't talk to me about principal reduction. They seem ready for me to walk away from the home I had planned to keep until death do us part rather than lower the principal. The housing market will eventually improve and upon my death, the lender won't have lost a dime. They would simply get back a well-maintained home that they can resale at a market price much above the current market rate. Principal reduction would benefit the lender as well as homeowners. Phoenix, AZ"

"No savings, no college fund for my 3 kids, no retirement. Building industry collapse caused hardship. US Gov't and big banks are to blame. The bank won't work with me for a loan modification because the mortgage is in my X husbands name. I have been foreclosed on."

"We should have $400K in equity, instead we're $80K under water. We don't qualify for Obama's programs because we refinanced in Nov. 2009, and they say you have to have last refinanced in May 2009! We can't take advantage of the low interest rates."

"HELP ME"

"NO REFI OPTIONS."
You must be over the age of 18 to make a submission. By submitting your photograph(s), you are granting AOL and America Underwater an irrevocable gratis perpetual license to use your photos on their websites, products and services. This permission includes permission to crop, color correct, reformat and otherwise manipulate the photographs for display by AOL or America Underwater without your review or approval. Further, by submitting a photograph, you are warranting and representing that the materials submitted do not violate the rights of any third party and that you have the right and authority to grant these rights and license.
Slides courtesy of: