Mitt Romney Waldorf-Astoria Fundraiser Sparks Occupy Wall Street '1% For Romney' Protest (PHOTOS) A Mitt Romney fundraiser brought Occupy Wall Street protestors back from the depths of winter for a protest outside the Waldorf-Astoria, where the presidential hopeful was scheduled to host a fundraiser lunch.
Roughly 200 protestors gathered for the "1 Percenters for Romney Rally." The group's site details the instructions targeting the Republican's penchant for the fancy life:
This will be a fun filled 1%ers for Romney rally with people dressed to the nines, ball gowns, suits, top hats and tiaras – and signs that echo Romney's own words, "Corporations are People too!" as well as "Buy Your Own Politician. Romney's Mine." We'll highlight the nightmare of corporate personhood and the selling of our democracy to the top bidder.
Protestors got creative by dressing up as grim reapers carrying "Job Cutter" scythes and held signs with messages "100 percent out of touch" and "Multimillionaires for Romney." Some even carried blacks urns representing "jobs cremation."
The Observer also spotted Councilman Ydanis Rodrgiuez, who was arrested during the group's eviction from Zuccotti Park in November, at the Romney rally.
Check out photos from Wednesday's rally:
1 Percenters for Romney Rally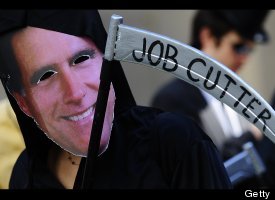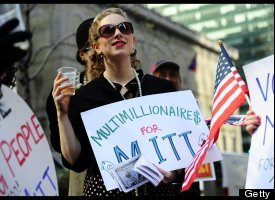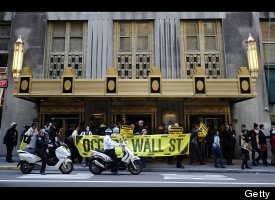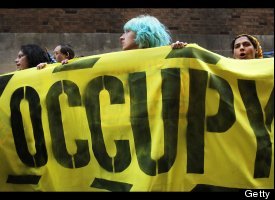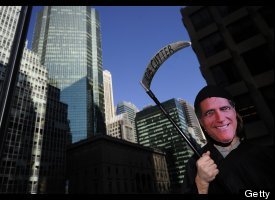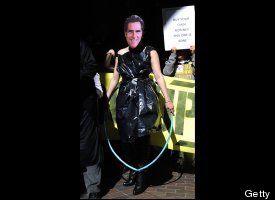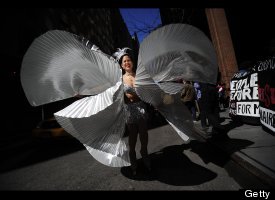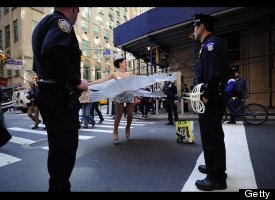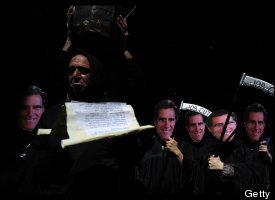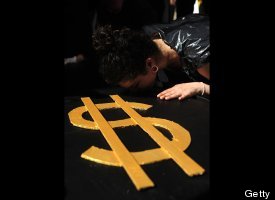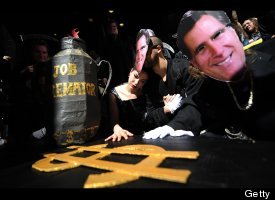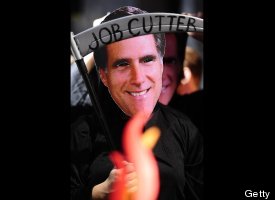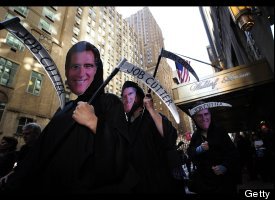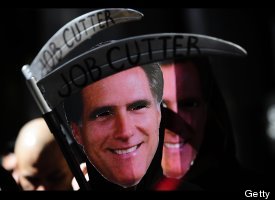 Via HuffPost Miami:
When an Occupy Miami member offered evicted protestors vacant apartments in a building he owns in Downtown Miami's Overtown neighborhood, it seemed like the perfect solution: the 'Peace City' space would provide headquarters for the movement and shelter a small faction of the group's most vulnerable members. But it hasn't gone well. Other tenants say the building has become a cesspool of drug use and violence while non-resident Occupy Miami members are trying to distance themselves from the 'radicals' -- all while the two factions are wrestling for control over Occupy Miami's social media sites and future plans.
The feud between the Overtown occupiers and more mainstream members has only gotten worse. The two factions are now battling for control of Occupy Miami's social media sites. The movement's main Twitter account recently announced it had been "hijacked by a small, non-consensus group of radical members." The Occupy Miami Facebook page was also temporarily hacked by someone inside Peace City. Meanwhile, the Overtown occupation is slowly driving away more moderate members.

"This is a black eye on the Occupy movement," says Shannon Reaze, an Overtown community organizer and Occupy Miami supporter who is now helping tenants move out of Paz's building. "The violence and drugs going on here are way outside of what I thought Occupy stood for. This place is destabilized."

...The supposedly hard-core activists here spend their days drinking and getting high. And as Peace City devolves into lawlessness, the most committed occupiers are leaving. Local landowners and politicians want the place shut down, while cops are suspicious. Yet as long as Paz wants the protesters around, nothing short of a demolition order can keep them out.