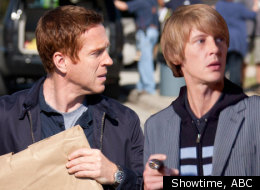 "Revenge's" man of mystery Nolan Ross (played by Gabriel Mann) has quickly become one of my favorite characters on television. The smirks, the one-liners, the inimitable fashion sense -- Nolan is truly one of a kind.
But with "Revenge" off the air for another month (new episodes resume Wed., April 11, 10 p.m. ET on ABC), and so many teases out there about what's next, I'm just wishing the network could clone good ole Nolan to make the rest of the TV landscape more interesting. Which other shows could handle a dose of debonair? A splash of sarcasm? An injection of innuendo?
Click though our gallery to see what Nolan could do on everything from "Survivor" to "Gossip Girl," Homeland" and "The Voice," then tell us: What other shows do you think need a little Nolan?
No one has better one-liners than Nolan. His quick wit and sass would be a welcome addition to "The Voice" coaching panel, and his high standard of personal style might even inspire Christina to pick up her game a bit.

Nolan and Dean Pelton share a similar spot on the Kinsey Scale, and they both have a flair for the dramatic. No offense to Jeff Winger's "Kiss From a Rose" duet, but we could easily see these two putting on hot pants and go-go boots and owning a mall karaoke performance.

What if Brody wasn't acting alone? Mysterious packages, top secret documents and a penchant for doing some dirty undercover investigating -- these guys are two peas in a sneaky little pod!

We heard about Rachel Berry's two gay dads for so long, and they definitely didn't disappoint when we finally got to meet them, but it seemed like something was missing. We know where Rachel got her singing skills, but a third dad like Nolan would easily explain her sometimes scheming ways.

Spotted: Blair Waldorf looking all kinds of disheveled, searching for public transportation in her wedding dress. We know Georgina was revealed as the show's gossipy blogger of all things Upper East Side, but technology-loving Nolan would be a great surprise switcheroo reveal. XOXO

Pour another big glass of wine! Nolan's beachy attire and laissez-faire attitude would make him a great addition to the "Cougar Town" cul-de-sac crew, don't you think?

If anyone could give Matthew a run for his money wooing Lady Mary, it'd be Nolan. He's dapper, distinguished and gets invited to all the best parties. Plus, no one else in 1912 would dare pull off his 'do.

This season's villain, Colton, is like a real-life Nolan. The pastel polos, the popped collars, the straight-up sass. If these two got together to form an alliance, they wouldn't even need an immunity idol -- there'd be no out-witting them.