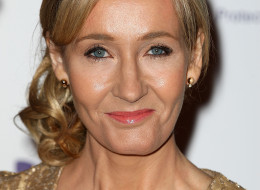 Even Harry Potter's wizardry couldn't have prevented this blow.
JK Rowling, the first female novelist billionaire, recently lost her exclusive status because of some very good deeds.
Forbes, which has produced an annual list of billionaires for the past 25 years, said that the "Harry Potter" author dropped from billionaire to millionaire due to Britain's high taxes and her charitable giving.
"New information about Rowling's estimated $160 million in charitable giving combined with Britain's high tax rates bumped the Harry Potter scribe from our list this year," Forbes noted in its "Billionaire Dropoffs" list.

The celebrated scribe, who was once an unemployed single mom living on welfare, has been particularly involved with helping families facing similar struggles.
Rowling's called One Parent Families, a nonprofit that empowers single-parent households, one of her favorite causes, according to Looktothestars.org. The organization provides child-care services and helps parents discover new job and education opportunities. The writer also founded her own charity, Lumos, which helps institutionalized and disadvantaged children in Eastern Europe.
"You have a moral responsibility when you've been given far more than you need, to do wise things with it and give intelligently," Rowling said, according to Mother Nature Network.
Click through the slideshow below to read about billionaires who have pledged half their wealth to charity.
SLIDESHOW:
People Donating 1/2 Their Wealth To Charity
Hollywood director George Lucas is passionate about education. He has worked to foster positive growth in the education sector through, Edutopia, the George Lucas Education Foundation. Lucas plans to donate the majority of his fortune to this end.

Microsoft co-founder Paul Allen has supported his namesake, the Paul G. Allen Family Foundation, for more than 20 years, as well as helped advance nonprofit scientific research through the Allen Institute for Brain Science. Allen has already given hundreds of millions of dollars to charity through his foundation, and has expressed his commitment to give the majority of his fortune after his death.

The Rockefeller family has historically been involved in philanthropic efforts supporting University of Chicago, The Rockefeller University, the Museum of Modern Art, and the Rockefeller Brothers Fund. David Rockfeller, the current heir, has pledged the majority of his wealth to charity.

Mayor of New York City Michael R. Bloomberg plans to give away the majority of his wealth during his lifetime, explaining that it is a better way to ensure a better future for his children than leaving them to inherit his fortune. According to Bloomberg, his foundation is currently working to find ways to prevent early deaths caused by tobacco use and traffic accidents.

Barron Hilton (left) plans to immediately pledge over $1 billion to the Conrad N. Hilton Foundation, which provides funds for nonprofits addressing a variety of issues, including homelessness, access to clean water and disaster relief. Hilton also plans to follow an example set for him by his father, donating the remaining 97 percent of his wealth in the future.

After losing his mother to cancer, businessman Jon Huntsman felt called to found the Huntsman Cancer Institute and use his fortune to find a cure for cancer. Huntsman plans to leave his entire estate to his foundation and other cancer-related charities.

In 1998, media mogul Ted Turner donated $1 billion to start the United Nations Foundation. Turner plans to continue giving, saying that his fortune should be almost completely distributed to charity at the time of his death.

In 1985, businessman Alfred Mann founded the Alfred Mann Foundation to fund scientific research in the field of medicine. Mann has joined the ranks of the 'Giving Pledge,' planning to commit 90 percent of his estate to his foundation and other causes.

Billionaire businessman and real estate mogul Eli Broad and his wife, Edythe, have pledged to give away 75 percent of their fortune within their lifetimes. The Broad Foundation supports arts organizations, funds advancements in medical science and advocates for education reform.