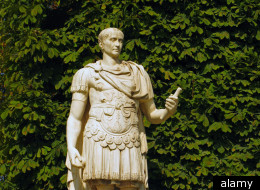 March 15 is a day to be wary of, as we're taught by high school English teachers and the Bard himself.
In William Shakespeare's "Julius Caesar," a soothsayer warns our ambitious protagonist of the Ides of March. Caesar dismisses this, as well as a dream his wife has about his statue flowing with a fountain of blood, providing a macabre bath for Roman citizens.
He goes into work that day anyway, probably whistling smugly, and is thus murdered (stabbed 23 times, according to Shakespeare) by members of the Roman Senate.
This got us thinking: Do literary characters ever pay attention to the bad omens they encounter? Probably not - then we'd have no dramatic irony. Still, we're pretty sure if we had a run-in with a scraggly black dog or a poisoned horse swarming with flies, we'd head for the hills.
Here are some of our favorite bad omens in literature. What are yours?
I don't know about you, but if three rhyming witches who spoke in unison warned me about my future, I'd probably take heed. Macbeth not only takes heed, he takes action, using their words as justification for murdering the King of Scotland. The Weird Sisters visit again, informing him he will be safe until Birnam Wood comes to Dunsinane Castle, a prophecy he assumes will insure his invincibility. But soon, the English army approaches with weaponry made from Birnam Wood, and Macbeth is slain by Macduff, a vengeful c-section baby.

The oracle of Delphi tells Oedipus' brother-in-law, Creon, that plague-stricken Thebes will be cured once the murderer of former King Laius is found. After some squabbling with Tiresias, the town's blind prophet, Oedipus is told that the murderer will be married to his own mother. When Oedipus discovers that he is the man who accidentally killed his father (and married his own mother), he doesn't take the news lightly. He gouges his eyes out.

Lennie Small, a lovable giant, can't keep his hands off creatures that catch his eye. This mostly includes newborn puppies and flirtatious women. So when he accidentally kills his dog while petting it too hard, it's a bad omen. We know that when the farm owner's wife starts getting handsy, there can only be trouble.

A huge, scraggly dog is something to fear in the wizarding world, and not just because it's huge and scraggly. Dubbed a Grim, it's considered an omen of death. Professor Trelawney reveals a tea-leaf Grim in Harry's cup during a Divination session, and sure enough, Harry does die (albeit momentarily) at the end of the series.

Protagonist Joe Christmas is named so because he's born on Christmas Day, Jesus's birthday. Seems lucky enough, right? Wrong. His life as a mulatto is tragic -- he isn't accepted by white or black communities, and his loneliness leads him down a criminal path. His violence makes it difficult to view him as a martyr, but, like Jesus Christ, he dies at the age of 33.

A group of sailors stumbles upon an Albatross, an omen of good luck and the bird supposedly responsible for breezes. But the animal leads them to a foggy region, so our narrator shoots and kills it. They are punished for the killing, finding that they are idle and stranded: "Water, water, every where, Nor any drop to drink."

The poisoned horse Antoinette discovers, rotting in the heat and covered with flies, isn't just a jarring memory. It foreshadows the events of her life, plagued with death of most of her family: She loses her mother, Aunt Cora and Mr. Mason, and is eventually alone.

Dorian begs his hunting companions not to shoot a graceful rabbit they encounter. They are dismissive, and take aim anyway, but their shot is met with the cry of a man, who dies instantly. Dorian worries that the incident was a bad omen, and he's right -- his fixation with outer beauty leads to his own demise.