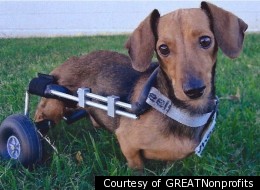 Many lesser-known nonprofits nationwide are making all the difference for animals desperate for shelter and for people who can benefit from animal therapy.
And we at HuffPost Impact salute you.
As our second installment of the "Top Nonprofit Of The Month" contest, in collaboration with Greatnonprofits.org, we're showcasing 10 outstanding, local nonprofits that are rescuing animals in greatest need and training animals to heal others.
Check out the personal testimonies from people who have witnessed these organizations' benevolent efforts, and cast your vote for the nonprofit you think is doing the most inspiring work.
SLIDESHOW:
After a stray showed up at the Wiliker's, the family turned to Furry Kids' Refuge, which cared for the dog until it found a permanent home. "It was such a relief for us to be able to call someone to help and know he would have good care until he was adopted," B. Wilker wrote on GREATNonprofits.org.

When CARA found Francis, he was frozen, starved, dehydrated and in a coma. After rehabilitating the suffering pup, the organization found him a safe and caring home with Nikki S. "Without the extra care and love of the dedicated staff at CARA, this puppy would not be here today," his owner wrote on GREATNonprofits.org.

As a volunteer at Yggdrasil Urban Wildlife Rescue Center, Constance T. has raised and released baby squirrels, gone on rescue calls and participated in post-mortem diagnostics. "Lila, the director, is an amazing woman with an incredible wealth of knowledge about everything wildlife," Constance T. wrote on GREATNonprofits.org. "Every question I've ever asked her has been met with a thorough answer."

When Tanya K. found a deer entangled in a barbed-wire fence, she immediately called Wildlife Rescue and Rehabilitation Inc. whose experts drove over an hour at midnight to save the helpless animal. "There is not a living creature they do not help in any way they can," Tanya K. wrote on GREATNonprofits.org. "Not only are they compassionate, but they are organized and effective."

When Oak Hill Animal Rescue received word that a dachshund was dragging himself along the highway, unable to use his back legs, the organization sprung into action. "After having him evaluated and discovering that he had paralysis in his back side, they decided to get him a wheelchair to make his life easier," Liz J. wrote on GREATNonprofits.org. "Betty and Jim are true angels to the service of animals far and near!

"Without places like Carolina Tiger Rescue, there would be no home for an increasing number of animals that NEVER should have been under private ownership, to begin with," Victoria J., a Carolina Tiger Rescue tour guide, wrote on GREATNonprofits.org. "If we don't educate the next generation, these animals won't be around for my grandchildren to admire..."

After visiting Hacienda de los Milagros, a "teaching and healing animal sanctuary," Monty J. said he felt an overwhelming calmness. "We were surrounded by empathetic souls who freed us from all judgments and all fears," Monty J. wrote on GreatNonprofits.org. "The quality of acceptance came in every touch, and in eye contacts the gift of understanding was immediately accessible."

Amy S. connected with her dog, Riley, after the Lost Dog and Cat Rescue Foundation saved him from a high-kill shelter just days before he was scheduled to be put down. "I can't even imagine Riley meeting that fate, especially given the total joy I get from him on a daily basis," Amy S. wrote on GREATNonprofits.org.

World Vets, nonprofit that brings medical care to animals in developing countries, gives its volunteers a chance to partake in lifesaving aid. "To share the vast knowledge that we have accumulated over the years, and to improve the welfare of animals globally, while improving human relations the world-over at the same time," Brian A. wrote on GREATNonprofits.org. "is an extremely noble and worthy cause!"

Swan Center Outreach Inc. provides a safe and caring environment for animals that have been abused, and gives visitors a chance to bond with them. "I am always amazed with the outcomes and experiences of other participants," Sherry C. wrote on GREATNonprofits.org. "Children and adults facing a health or family crisis often identify with the animals and can see a path of hope for themselves, which makes the programs priceless."