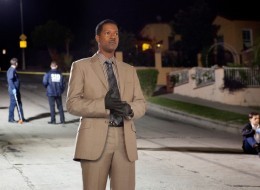 Some are obsessive-compulsive neat-freaks. Some aren't afraid to get their hands (or reputations) dirty. Some enjoy a damn fine cup of coffee, while others have a taste for the supernatural.
We're not sure there's any one way to pin-down the perfect television detective, but whether their legacies endure through their pun-tastic one-liners-made-memes or through iconic mustaches that have since taken on lives of their own, it's no secret, Sherlock, that some of the greatest male sleuths of the small screen are also some of its most memorable.
From classic to quirky, and in no particular order, here's our list of anything-but-elementary detectives, our dear Watson. And for a more feminine fix, check out our list of TV's best female detectives for even more crime busters.
Got any you think we missed? Share with us your favorite guy gumshoes in the comments below!
Television's Most Memorable Male Detectives of All Time (PHOTOS)
[Speaking into tape recorder] "Diane, it struck me again earlier this morning, there are two things that continue to trouble me. And I'm speaking now not only as an agent of the Bureau but also as a human being. What really went on between Marilyn Monroe and the Kennedys and who really pulled the trigger on JFK?"

"You have the right to remain silent! Why don't you use it?"

"I have lived with a fragile faith built on vague memories from an experience that I could neither prove nor explain. When I was 12, my sister was taken from me, taken from our home by a force that I came to believe was extraterrestrial. This belief sustained me, fueling a quest for truths that were as elusive as the memory itself. To believe as passionately as I did was not without sacrifice, but I always accepted the risks -- to my career, my reputation, my relationships, to life itself."

"I'll swallow a lie when I have to. I've swallowed a few big ones lately. But the stat games... that lie, it's what ruined this department. Shinning up s*** and calling it gold, so that Majors become Colonels and Mayors become Governors; pretending to do police work while the next generation ****ing trains the next how not to do the job."

"Oh, there's just one other thing..."

Yuri Dolgof: You're a private investigator? Magnum: Yes. Yuri Dolgof: You are wearing a swimsuit. Magnum: Don't worry; I got a whole closet full of pants.

"Each case gets a little more horrific than the last. I go home to my wife, what am I supposed to do? Talk about my day? Honey, today, some man cut a baby out of his wife's stomach. Pass the gravy."

"All I wanna do is help. I wanna help because, I don't think people should suffer as they do. Because, if there's no bigger meaning, then the smallest act of kindness is the greatest thing in the world."

"They say the show must go on. No one ever gave me a good reason why it should, but it does."

"I try to avoid transferential relationships with dead people -- it's always so one-sided."

Sgt. Thomas Velie: "We've had nothing but murders and robberies lately." Ellery Queen: "Post-war prosperity, Velie."

Dr. Woods: "He died hours before this accident ever happened." Caine: "So our accident... [puts on sunglasses] is not an accident at all."

"No. No no, I-I am a Gangs Detective. I cannot have a f****** 'Find My Friend App' on my phone."

"I do my best work hungover. I have less brain cells to confuse the issue."

"I don't trust people; they tend to lie. Evidence never lies."

"Hey, I've had three wives because of the job."

Mannix: "Lew, we've been here before. I know you won't change the system. I know I won't change the system. It's logical. Can me." Lew Wickersham: "You're my best man!" Mannix: "I know."

"I guess what you heard didn't include the words coming out of my mouth."

"Reading that detective fiction doesn't help. I mean, things aren't like that, you know? They're not black and white. They're aren't any heroes left; they die young. [Pointing to a book cover] His gun is deadly? Mine's in a cookie jar."

"Good cop and bad cop have left for the day. I'm a different kind of cop."

"I can eat anything as long as I can wash it down with a glass of cold milk."

Monk: "There's an old saying: 'Don't change anything... ever.' " Natalie: "That's an old saying?" Monk: "I've been saying it for years."

"You have the right to an attorney and if you throw up in my car, I'll kill ya."

"Who loves ya, baby?"

"When my first wife and I divorced, I agreed to split my pension with her on the day I retire... I'll be damned if she gets a nickel!"

"When you pick someone to lie to, Mrs. Granger, never choose your doctor or lawyer. In both cases they can be fatal."

"OK, sir, I'll take your case and investigate what happened... But just remember, the truth is like rain -- it doesn't care who gets wet."

"Don't let your mouth get your ass in trouble."

"The game is rigged."

Watson: "That was a close call, Holmes." Holmes: "It certainly was. If you hadn't lingered to pass the time of day with that barmaid, we'd have had ample time." Watson: "How did you know that I..." Holmes: "Your elbow, it's wet." Watson: "Well?" Holmes: "You've obviously been leaning on a bar somewhere and if I know you, it wasn't a bar *man.* Was she pretty?"