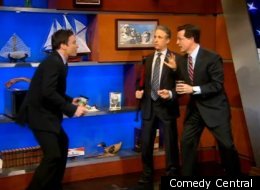 With so many great late night shows on television, it can be hard to keep up with all of them. Thankfully, once in awhile, our favorite hosts drop by each others' shows for a sketch, an interview or, in some cases, an all-out late night brawl.
Most of the appearances are just for fun, like the "feud" between Jimmy Fallon and Stephen Colbert over their Ben & Jerry's ice cream flavors. Some of the crossovers, however, become significant moments in late night TV history, such as David Letterman doing an interview with Johnny Carson after not becoming the next "Tonight Show" host and Conan O'Brien's return to his old "Late Night" studio after his very messy parting from NBC.
Whatever the reason, when different hosts collaborate, something interesting always happens. We collected some of our favorite late night crossovers from the last few decades. Don't forget to vote on the best crossover moment!
Late Night TV Host Crossovers
David Letterman accuses Johnny Carson of stealing his truck.

Conan vs. Stewart vs. Colbert. Need we say more?

Stephen Colbert was forced to sing a cover of Rebecca Black's "Friday" after losing a bet to Jimmy Fallon over who could raise more money for charity.

Because of his potential presidential run, Stephen Colbert was forced to hand control of his Super PAC over to Jon Stewart, who renamed it "The Definitely Not Coordinating With Stephen Colbert Super PAC."

During Conan's week of shows in New York, Jimmy Fallon stopped by to sing a special new Halloween song.

Jimmy Fallon and Stephen Colbert battle for Ben & Jerry's flavor supremacy. Colbert calls in Jon Stewart, and Fallon calls in Jay Leno, who didn't show up.

After their ice cream eating contest causes a brain-freeze-induced hallucination, Fallon and Colbert serenade the audience with a song.

Carson's first question: "Just how pissed off are you?"

After joining TBS, Conan visited George Lopez to show off his multilingual skills.

In the midst of the feud over "The Tonight Show With Conan O'Brien," Jimmy Kimmel appeared on "The Jay Leno Show." Kimmel couldn't resist taking some epic jabs at Leno.

Conan makes his return to Studio 6B to retrieve his old friend Triumph.

Letterman takes a look back at some of the visits from his friend and mentor.

Conan did a week's worth of shows in NYC, and Jon Stewart and Stephen Colbert managed to score tickets.