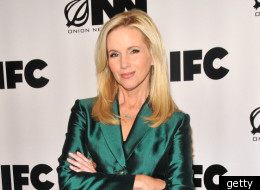 NEW YORK -- At Tuesday's upfront announcing new programming for the cable channel IFC, one show that previously was a staple, "Onion News Network," went unmentioned. On Wednesday, a spokesperson for IFC confirmed to The Huffington Post that "ONN" would not return for a third season.
"Onion News Network," the first foray into television from the venerable satirical newspaper The Onion, began life in 2007 as a series of web-only shorts on theonion.com. It was expanded to a half-hour TV program in January 2011, along with "Portlandia," as part of IFC's inaugural crop of original programming when the cable channel switched to a commercial model.
The second season of "ONN" was announced in March 2011, and debuted in October 2011.
The show's cancellation comes at the same time that The Onion's editorial staff is in transition to move from New York City, where production of "ONN" also took place, to Chicago, where the business side of The Onion Inc. is located. The editorial staff has even put its New York office's furniture on Craigslist to sell.
In its two seasons, production of "ONN" was not always without contention. Last July, the writers for "ONN" nearly went on strike when The Onion Inc. would not allow them to join the Writers Guild of America and receive benefits available to other television writers. Ultimately, the company relented and allowed them to join.
The First Responders debate whether the use of flying death robots is damaging America's reputation around the world.

The president's approval ratings soared after he punched a smug Wall Street banker right in the face.

The new hit single from pop star K'Ronikka probably causes the collapse of modern civilization. (Go here to download her smash hit "Booty Wave")

Just remember: If Barack Obama wins a second term, you'll never know who your president could have been.

The terrorist organization released a viral photo of an adorable piglet wearing boots, crashing servers across the country.

Former congressman John Clarkson has surged ahead in the GOP race despite being in a coma for the past 8 years.

Apple CEO Tim Cook announces that the company will be releasing a new version of visionary founder Steve Jobs.

Hallucex suppresses the appetite through groundbreaking new psychedelics.

The Supreme Court legalized the law that many gun advocates had long been waiting for.

Rescue efforts are underway to save the trapped miners.

Michael Bay carries out a terrorist attack that everyone really should have seen coming.

School hero Trevor Wilson stopped a potential school shooter by shooting and killing him.

In a moving PSA, Ben Stiller cautions parents against shaking their manchildren.

The CIA's social media project has provided the country with a cheap and incredibly comprehensive surveillance system.

Dave Tillis becomes the country's first openly drunk member of the Senate.