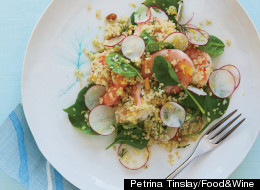 Seafood lovers rejoice! We've got a collection of amazing shrimp recipes, from fried shrimp to grilled shrimp and everything in between. Whether you're craving a simple saute, a saucy stew, a spicy curry, a salad, or a Southern standard, we've got recipes that cover the shrimp gamut.
We love shrimp because it's one of the more affordable seafoods available and it's so quick -- not to mention easy -- to prepare. The virtue of shrimp is that it pretty much works with every single cooking method. Grill, broil, saute, poach, steam or fry shrimp -- it tastes great every way. Nowadays you can buy shrimp that's already deveined and even cooked (or you can devein yourself), which helps cut down on recipe prep time immensely.
Want to read more from HuffPost Taste? Follow us on Twitter, Facebook, Pinterest and Tumblr.
Shrimp And Grits

Annie's Eats

Hawaiian Shrimp Truck Special (Garlic Lemon Butter Shrimp)

Half Baked Harvest

Shrimp Pasta With Broccoli Pesto

Gimme Some Oven

Big Easy Style Saucy Creole Shrimp

Half Baked Harvest

Italian Shrimp And Grits

A Spicy Perspective

Prosciutto-Wrapped Shrimp

Gimme Some Oven

Quinoa Tabbouleh With Lemony Shrimp

Annie's Eats

Miso Butter Shrimp

Steamy Kitchen

Sweet Chile Shrimp Tacos

A Spicy Perspective

Garlicky Grilled Shrimp

The Clever Carrot

Shrimp Scampi Zoodles For Two

Skinny Taste

Grilled Chiles Rellenos With Chipotle Peach Mojo Shrimp

Half Baked Harvest

Coconut-Lime Fried Shrimp With Fiery Mango-Peach Jalapeno Sauce

Half Baked Harvest

Roasted Basil Butter Parmesan Shrimp

How Sweet It Is

Shrimp Burgers With Chipotle Cream & Coconut Peach Salsa

How Sweet It Is

Shrimp Cakes

Simply Recipes

Peppery Garlic Prawns

Simply Recipes

Shrimp And Bacon Risotto

How Sweet It Is

Garlic Shrimp In Coconut Milk, Tomatoes and Cilantro

Skinny Taste

Shrimp Po Boy Sandwich

Simply Recipes

Fresh Corn Chowder With Bacon + Barbecue Shrimp

How Sweet It Is

Spicy Beer & Butter Shrimp with Cornbread Panzanella Salad

Half Baked Harvest

Shrimp Gumbo With Andouille Sausage

Simply Recipes

Sweet Chili Shrimp Stir-Fry

The Clever Carrot

Thai Firecracker Shrimp

Steamy Kitchen

Aloha Teriyaki Shrimp Burgers

Skinny Taste

Angel Hair Pasta With Shrimp And Lemon Cream Sauce

Simply Recipes

Shrimp Dip

Simply Recipes

Smoky Paprika Shrimp Skewers

Simply Recipes

Ancho Chile, Shrimp And Pasta

Simply Recipes

Crispy Shrimp Pizza

How Sweet It Is

Cioppino

Simply Recipes