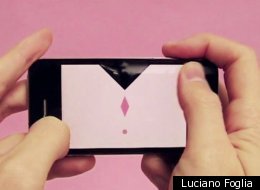 Shapes. They're all around us -- shapes compose the structure of your house, your desk at work, and even your entire human body.
Yeah, that's right: Your **entire** **human** **body**.
I'm talkin' about all of it.
That, I suppose, is the driving force behind Geometric Porn, which is almost exactly what it sounds like. Geometric Porn simulates pornography -- namely, sex organs, intercourse, and, uh, completion -- using nothing but simple geometric shapes; it's the name given to an abstract art project by London-based visual artist Luciano Foglia, who had also hoped to make Geometric Porn an interactive iPhone app.
Specifically, Apple found that Geometric Porn "present[s] excessively objectionable or crude content" and that "many audiences would find [the] app concept objectionable."
Foglia, meanwhile, finds that the only thing objectionable here is Apple's sensibilities, arguing in a statement that the Geometric Porn app "does not show any sexual or erotical image," that "it's totally pornography free," and, finally, that it is simply "a game of optical art created for the allusion of the erotic [sic]."
So, is the Geometric Porn app objectionable, or does Apple just not know art when it sees it? Here's a video of the app in action, created by Foglia and posted on his Vimeo site (CAUTION: Some might find the following content objectionable).
WATCH:
Geometric Porn App Preview from Luciano Foglia on Vimeo.
Apple's not shy about rejecting apps from its App Store: HuffPost favorite iScab was initially rejected for being too bloody, and several other apps have been turned down for everything from celebrity defamation, to depictions of nudity, to promoting violence.
So, you've watched the video: What do you think? Crude, rude, and socially unacceptable, or an overreaction to a playful work of art?
Check out some of the most controversial apps ever booted from the App Store.
Boston-based developer Owlchemy Labs irked immigrant advocate groups with this iPhone game that allows users to drive a truck full of immigrants through the desert. According to the AP, "[Developer Alex] Schwartz said he wanted to bring attention to immigration issues." But Apple banned the app from the App Store.

U.S. Senators Chuck Schumer, Frank Lautenberg, Tom Udall and Harry Reid pressured Apple, Google and RIM earlier this spring to remove smartphone apps that notify users of nearby police DUI checkpoints. Apple and RIM have since complied with the Seantors' demands and cracked on so-called "DUI checkpoint" apps, but Google has yet to take action.

Despite initially passing Apple's standards, the allegedly anti-gay messages promoted by the app "Exodus International" outraged thousands of customers. The Exodus International ministry, from which the app takes its name, promotes "freedom from homosexuality through the power of Jesus Christ." After more than 150,000 signatures were gathered for an online petition, Apple removed the app from the App Store entirely.

Hugh Hefner claimed in January that "Playboy" would soon come uncensored on the iPad. Apple, however, remains firm on its nudity-free policy within the App Store and forced "Playboy" to resort to a low resolution web app instead.

The unofficial WikiLeaks application lasted only three days in the App Store before being banned by Apple.

Apparently Apple's censors worried that Tom Bouden's graphic novel version of Oscar Wilde's The Importance of Being Earnest, which portrays illustrations of nude or partially nude men embracing, would be too objectionable for too many users. Apple approved the app, but only with black boxes covering controversial frames. However, the App Store later reversed its decision and passed the app without the censor bars.

In 2010, Apple approved the Big Brother Camera Security app, which lets users remotely photograph someone who is improperly trying to access their stolen or lost iPhone. In June 2010, however, the app was removed from the App Store following accusations that the developer was "surreptitiously harvesting user passwords."

Apple removed the app called "ThirdIntifada" from the App Store, following complaints made by Israel's information minister, Yuli Edelstein and Jewish human rights group Simon Wiesenthal Center. The app was said to promote violence against Israel, according to claims.

Apple initially approved so-called "anti-gay" app Manhattan Declaration, but the App Store later removed the program following a wave of complaints--and a petition--from outraged customers. The app asked users to sign a "declaration," which according to the app "speaks in defense of the sanctity of life, traditional marriage, and religious liberty."