Mitt Romney Calls Trayvon Martin Shooting A 'Tragedy'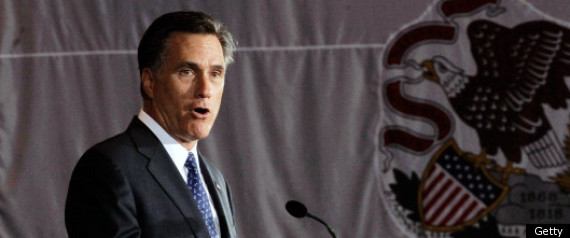 NEW ORLEANS -- Republican presidential candidate Mitt Romney says there should be a "thorough investigation" into the shooting death of an unarmed, black Florida teenager that has rallied civil rights activists.
Romney issued a written statement Friday calling 17-year-old Trayvon Martin's death "a tragedy." He said an investigation would reassure the public that, in his words, "justice is carried out with impartiality and integrity."
Romney's statement followed President Barack Obama call during a White House appearance Friday for an investigation into the killing. Obama said his message was for Martin's parents and added that if he had a son, the boy would look like Martin.
Romney was campaigning in Louisiana for the state's presidential primary Saturday.
Below, a slideshow of politicians' reactions to the Trayvon Martin shooting:
Loading Slideshow
Barack Obama

"If I had a son, he'd look like Trayvon," <a href="http://www.huffingtonpost.com/2012/03/23/obama-trayvon-martin_n_1375083.html" target="_hplink">President Obama said</a>. "I think [Trayvon's parents] are right to expect that all of us as Americans are going to take this with the seriousness it deserves, and we are going to get to the bottom of exactly what happened."

Newt Gingrich

Newt Gingrich <a href="http://www.huffingtonpost.com/2012/03/23/newt-gingrich-trayvon-martin_n_1375246.html?1332517208" target="_hplink">told Piers Morgan</a> that the Trayvon Martin case was tragic, and that he didn't believe the shooting would be covered by Florida's Stand Your Ground law. "I think Americans can recognize that while this is a tragedy -- and it is a tragedy -- that we're going to relentlessly seek justice, and I think that's the right thing to do," Gingrich said. Asked about the <a href="http://www.google.com/hostednews/ap/article/ALeqM5jGvt4B1k3oYa22McRcMZW59i8b0w?docId=c220cf9300364978aaf2b5e9ed3ca1b4" target="_hplink">Stand Your Ground</a> law, he said, "The young man apparently was not following the person who's being investigated. Apparently, the shooter was following the young man. That's not a stand your own ground, that's a chase the other person into their ground. And I think you're going to find the law, as interpreted normally, doesn't apply to this case."

Allen West

Rep. Allen West (R-Fla.) condemned the killing of Trayvon Martin, but cautioned against making the case a racial issue. Below, his full statement <a href="http://www.huffingtonpost.com/2012/03/22/allen-west-trayvon-martin_n_1373919.html" target="_hplink">as posted on Facebook</a>: <blockquote>I have sat back and allowed myself time to assess the current episode revealing itself in Sanford, Florida involving the shooting of 17-year-old Treyvon Martin. First of all, if all that has been reported is accurate, the Sanford Police Chief should be relieved of his duties due to what appears to be a mishandling of this shooting in its early stages. The US Navy SEALS identified Osama Bin Laden within hours, while this young man laid on a morgue slab for three days. The shooter, Mr Zimmerman, should have been held in custody and certainly should not be walking free, still having a concealed weapons carry permit. From my reading, it seems this young man was pursued and there was no probable cause to engage him, certainly not pursue and shoot him....against the direction of the 911 responder. Let's all be appalled at this instance not because of race, but because a young American man has lost his life, seemingly, for no reason. I have signed a letter supporting a DOJ investigation. I am not heading to Sanford to shout and scream, because we need the responsible entities and agencies to handle this situation from this point without media bias or undue political influences. This is an outrage.</blockquote>

Mitt Romney

"What happened to Trayvon Martin is a tragedy. There needs to be a thorough investigation that reassures the public that justice is carried out with impartiality and integrity," <a href="http://thecaucus.blogs.nytimes.com/2012/03/23/republican-hopefuls-react-to-trayvon-martin-killing/" target="_hplink">Mitt Romney said</a> in a statement.

Rick Santorum

Rick Santorum said the shooting was "horrible" and a "chilling example of the horrible decisions made by people in this process." "Stand Your Ground is not doing what this man did," <a href="http://www.huffingtonpost.com/huff-wires/20120323/us-santorum-neighborhood-watch/" target="_hplink">Santorum said</a>, adding that he believes the Justice Department should leave the matter to local and state authorities.

Rick Scott

Florida Governor Rick Scott (R) <a href="http://www.huffingtonpost.com/2012/03/22/trayvon-martin-state-attorney_n_1374206.html" target="_hplink">said</a> a state task force would review Florida's Stand Your Ground law and recommend changes "so that we might help avoid such tragedies in the future."

Frederica Wilson

Rep. Frederica Wilson (D-Fla.) denounced shooter George Zimmerman as "a renegade wannabe policeman neighborhood watchman." "Mr. Speaker, I am tired of burying young black boys," Wilson said <a href="http://blogs.browardpalmbeach.com/pulp/2012/03/frederica_wilson_trayvon_martin.php" target="_hplink">during a speech</a> on the House floor. "I am tired of watching them suffer at the hands of those who fear them and despise them. I am tired of comforting mothers, fathers, grandparents, sisters and brothers after such unnecessary, heinous crimes of violence."

Condoleezza Rice

"Well, first of all, it's a great tragedy," Condoleezza Rice <a href="http://video.msnbc.msn.com/mitchell-reports/46810837/#46810837" target="_hplink">told Andrea Mitchell</a>. "This young man has been deprived of life and that's an enormous tragedy. And we all should have prayers and for his family and for those who are left behind. So it's a great tragedy. That's the first thing to say. Secondly, I've always said that obviously, we are not a race blind society. We aspire to be one, we work toward it, we've gotten better, but we are not yet. But I'm not going to comment on the legal aspects of this case because as I understand it, the Justice Department is looking into it, local authorities are looking into it, and I certainly hope that justice will be done here and due process accorded. But I'm not going to comment on the legal aspects of this. I'm not competent to do so."

Mitch McConnell

Senate Minority Leader Mitch McConnell (R-Ky.) <a href="http://www.politico.com/blogs/on-congress/2012/03/mcconnell-trayvon-martin-shooting-incredible-tragedy-118450.html" target="_hplink">called the shooting</a> an "incredible tragedy," but declined to comment on the "Stand Your Ground" law. "It is an incredible tragedy of huge proportions," he said. "I'm glad it's being investigated and we'll take a look at it as the investigation moves along."

Harry Reid

"The killing of Trayvon Martin was a tragedy, and nothing will bring him back," Senate Majority Harry Reid (D-Nev.) wrote in a statement. "But there remain unanswered questions surrounding his death, and I applaud Attorney General Eric Holder for opening an investigation. Trayvon and his family deserve nothing less, and my thoughts are with them in this unimaginably difficult time. Any single incident where an unarmed civilian is gunned down is one too many, but sadly, similar incidents have occurred in other states, including in Nevada. I trust the Justice Department and law enforcement at all levels will provide the justice that Trayvon's loved ones and our country deserve."
Subscribe to the HuffPost Hill newsletter!
Copyright 2014 The Local Paper. All rights reserved. This material may not be published, broadcast, rewritten or redistributed.