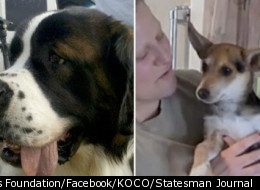 March 23 is National Puppy Day and to celebrate "the magic and unconditional love that puppies bring into our lives," we've created a slideshow of the bravest and most heroic puppies we've seen recently.
From Will, the Australian puppy who survived being thrown out of a first-floor window and managed to keep his sunny and happy disposition intact, to Bear, the giant puppy who saved his owner during the Oklahoma tornado, these pooches are nothing short of incredible. If you enjoy this slideshow, consider going to your local shelter to adopt an abandoned puppy. Dog-owners have been proven to have lower risk of cardiovascular disease, better emotional health and immune function.
Harper was found in a garbage bag. An illegal dog peddler in Sanford, Fla., had stuffed him in there MSNBC reported. When shelter workers finally retrieved the poor pup in 2011, he was discovered to be so deformed that that he couldn't walk or hold up his head. Harper had been born with a condition commonly known as "swimmer puppy disorder" and most dogs afflicted with it don't survive. Euthanasia seemed to be the only humane option. However, thanks to love and dedication of Erica Daniel of Dolly's Foundation (a rescue and rehabilitation center for dogs), Harper, who underwent hydrotherapy, is alive and well -- and incredibly, he's back on his feet. "She's a walking miracle. She's a real testament to a dog's determination to get up and just go," Bev McCartt, a hydrotherapy specialist who worked with Harper, told MSNBC. For more on Harper's miracle recovery, click here to read Erica Daniel's blog and here to see more pictures of Harper and Dolly Foundation's other dogs.

Watching Polly Bravo frolic outside his new home in Alexandria, Va., it's difficult to imagine that this little white puppy was once struggling to survive on the streets of Afghanistan. When U.S. soldiers found Polly Bravo, he was roaming the streets, bloody at the neck and suffering from an infection, NBC Washington reports. Now, thanks to the Virginia-based Afghan Stray Animal League -- a nonprofit organization which works to connect stray animals in Afghanistan with potential owners in America -- Emily Jeter, who picked Polly Bravo up from the airport earlier this month, is the puppy's happy new owner. For more on Polly, read the full article here at The Huffington Post.

Hen, a 4-month-old pit bull puppy risked his life to save his owner's pregnant daughter when he, against all natural instincts, ran back into a burning house, ABC reports. Hen and his owner, Demetric McCaulley, had made it out safely when McCaulley's house had caught on fire. But the moment he noticed that Kadejah -- McCaulley's pregnant daughter -- was not outside, Hen ran back in. Firefighters found Hen under a table in the kitchen. He suffered severe burns but is recovering well. "It's heartbreaking what he is going through just to try and save my life," Kadejah, who made it out of the house safely, said. To read more on Hen, click here.

She's probably one of the world's smallest puppies, but 2-week-old Beyoncé, a Daschund mix, is also a gritty little survivor, according to a CBS report. Weighing only 4 ounces, the tiny pup is no bigger than an iPhone -- but acccording to Beth DeCaprio, the executive director of the Grace Foundation -- the El Dorado Hills organization that is currently caring for Beyoncé -- the dog has managed to cheat death on four different occasions. To read the rest of Beyonce's story on The Huffington Post, click here.

A big puppy risked his life to protect his owner during last year's Oklahoma tornadoes. As the tornado approached her home in Piedmont, Okla. last year, Leanne Sneed was terrified. The tornado would end up destroying her house, but Sneed survived -- without a scratch, KOCO reports. Gary Sneed, her husband, said that Bear -- the couples' 160-pound puppy -- could sense his wife's fear and laid down on top of her, completely shielding her body. Luckily, neither was hurt. To watch a video about Bear, click here.

In January, Tucker -- a 1-year-old Yorkie/Beagle mix -- saved the Gray family from their burning home in Haverhill, Mass. by barking. The tiny pup made a ruckus till he got the attention of India Gray, his owner, who got her sons out of the house in the nick of time, NBC reported. To read the whole story on The Huffington Post, click here.

The sheer pluck of a four-month-old Chihuahua/Pinscher mix named Felipe foiled a robbery last month when two thieves broke into the Happy Living Foster Home in Keizer, Ore., the Statesman Journal reports. The puppy's barking alerted residents to the intrusion, which led to arrests of the two robbers. "Felipe is the hero," his owner, Ramona Villalpando, said. Watch a video about Felipe here.

A puppy in Detroit was stuck in a drain pipe for more than 12 hours before it was freed last month by rescue crews, United Press International reports. Cold and hungry, the still-nursing puppy cried through the night -- but the plucky little guy hung in there till he was rescued. For the full story on The Huffington Post, click here.

Will, an 8-month-old Ridgeback-Staffordshire cross was thrown out of a first-floor window by his owner in Sydney, Australia in December last year. The owner, a 24-year-old called Lily Maihi was "intoxicated and aggressive," according to the Telegraph, and threw the dog after getting into a fight with a friend. After captivating the nation with his sunny demeanor and gritty will to survive, the puppy was given free surgery. Hundreds of calls for adoption poured through to the hospital that was caring for him, but he was eventually adopted by Graeme Langlands, an Australian rugby legend. "He is just so friendly," veterinary surgeon Sarah Goldsmid said. "He's always wagging his tail and is happy to see anyone."

Ciuchcia the puppy was found partially paralyzed and badly beaten on railway tracks. But a local animal shelter adopted her and made her a specially-designed puppy wheelchair that allows her to run around and chase cats despite the lack of function in her hind legs. Ciuchcia is irrepressible and energetic -- a brave puppy if there ever was one.