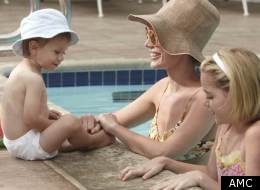 So, there you have it, "Mad Men" fans -- we finally know the status of Don Draper's relationship with Megan.
(Warning: If you haven't watched the "Mad Men" Season 5 premiere yet, stop right here or risk being spoiled.)
In tonight's long-awaited Season 5 premiere (read Mo Ryan's full recap here), we found out that Don actually married his new Mrs. Draper, Megan (Jessica Pare). The two are living it up in their swanky Manhattan party pad -- Zoo Be Zoo Be Zoo! -- and, of course, she's been promoted from front desk receptionist to copywriter at Sterling Cooper Draper Pryce.
But how will their marriage affect Megan's relationship with Don and Betty's three children? After such a fun trip to L.A. together, is the Megan-Sally friendship kaput? It's hard to tell in the premiere, with the "new" Draper family chatting over breakfast ... Sally seems happy, but you never know with that little emotional timebomb.
I caught up with Sally Draper herself, actress Kiernan Shipka (read part 1 of our chat here), to find out her reaction when she learned about the changes this season, and how Sally is coping with it. Could Sally and Megan really "become best buds this season," like she teases? Only time will tell ...
What was your reaction when you read the first script and realized that Don and Megan had actually gotten married?
I was happy and I was excited, but I was kind of surprised ... a lot went through my head.
Well, of all the kids, I feel like Sally would be happiest to have a young, fun new stepmom ... but she'd also be affected the most.
Definitely. I mean, we saw how she didn't like Faye last season, so ... [Laughs.] Who knows how she's gonna like Megan as her dad's wife?
In that scene where they're all having breakfast together in Don and Megan's new place, you can't really tell what Sally's thinking. Can you give us some insight into the new dynamic and how Sally feels about it all?
I think, to be honest, she's just kind of adjusting to the new dynamic. She's kind of coping with what's going on.
But Sally and Megan do get along. I feel like Megan probably doesn't want to think of her as a stepmom, but maybe she understands and relates to Sally more as a friend.
Definitely. She's younger ... and they already got along last season, so you can only imagine how they'd kind of maybe become best buds this season.
"Mad Men" airs Sundays, 9 p.m. ET on AMC.
Forget where "Mad Men" Season 4 left off? Here's a refresher:
When we last left them in Season 4, Sterling Cooper Draper Pryce was struggling to stave off bankruptcy. After Sterling lost the Lucky Strike account, the firm was forced to initiate layoffs and to take out an emergency line of credit to stay afloat. Don was able to put a shine on SCDP's image by penning an editorial titled "Why I'm Quitting Tabacco," but it didn't do much to help the firm's bottom line.

Don proposed to his secretary Megan Calvet, formerly the firm's front desk receptionist, in last season's finale. It was an impulsive move that shocked audiences and pretty much every character on the show, too. He had been dating the more confident and empowered Faye Miller before he slept with Megan on his office couch and decided to take her on a trip to California with his kids. She's great with Sally and Bobby, speaks fluent French and is strikingly beautiful ... but they don't exactly know each other very well.

Sadly, Don's endearingly ornery secretary Miss Blankenship passed away while sitting at her desk outside his office. "Mad Men" will miss her comic relief, and we'll miss her updates about who called Don while he was in the bathroom.

Yes, he is, although he spent most of Season 4 living an ocean away from his wife Rebecca and son Nigel. She struggled to get comfortable living in New York and eventually moved back to England, at which point Pryce started dating a black Playboy Bunny named Toni. His elderly father quickly put a stop to that interracial relationship, beating Pryce with his cane and ordering him to come back to England to get his family situation in order. At the end of the season, he went back to England and convinced his wife to give New York another shot.

Faye Miller was a freelance consultant who was conducting focus-group testing for SCDP. She was a smart, independent career woman who spent a significant part of Season 4 secretly dating Don. They grew close, and she was every bit his intellectual equal; he trusted her enough to tell her the truth about his secret identity, and that he was being investigated by the FBI. Faye was hit with a double dose of insult and injury at the end of Season 4. She was forced to resign from her job in the wake of Don's anti-tobacco editorial, and then a few days later, Don told her he was engaged to Megan and broke up with her over the phone.

Joan's fairytale marriage is crumbling. After her husband Greg couldn't handle Joan getting on top in bed, he came to her office and raped her on the floor. Later in the season, Greg enlisted in the Army after his stateside surgical career fizzled. When he was away at Basic Training, Joan reconnected with Roger Sterling in an alleyway rendezvous that got her pregnant.

Yes, he does, although it's unclear whether she told him about her decision to go through with the pregnancy. After Joan told him she was pregnant with his child, Roger took her to a doctor, who suggested an out-of-town abortion clinic she could go to. But when she got there, she decided to go through with the pregnancy and told her husband Greg he was the father.