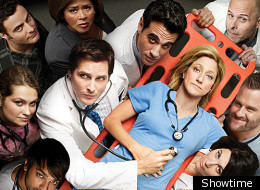 Showtime just couldn't wait to share its spring premieres!
April's premieres of "Nurse Jackie," "The Big C" and "The Borgias" have hit YouTube early. All three series are slated to premiere on April 8.
Check them out in the slideshow below.
The half-hour Season 4 premiere of "Nurse Jackie" (April 8 at 9 p.m. ET on Showtime) features Jackie (Edie Falco) confronting her tumultuous personal and professional life, and finally seeking help for her addiction to prescription drugs. This season's guest stars include Bobby Cannavale, Rosie Perez, Joel Grey, Aida Turturro, Stephen Wallem, Arjun Gupta, Lenny Jacobson, Green Day frontman Billie Joe Armstrong and New York Knicks' Carmelo Anthony.

The Season 3 premiere of "The Big C" airs on April 8 at 9:30 p.m. ET and follows Cathy (Laura Linney) as she wades through the tragedy that ended Season 2. The season also promises to resolve questions left by John Benjaim Hickey and Gabourey Sidibe's characters.

"The Borgias" will close the night with a 10 p.m. air time on April on Showtime. The historical drama is back for a second season as Pope Alexander (Jeremy Irons) attempts to keep his family under control while running the Vatican.