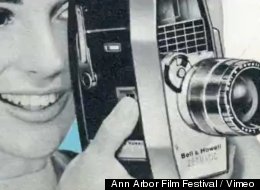 The circus is coming to town!
That is, if by circus you mean film festival, and by town you mean Michigan's little-big city, Ann Arbor. The six-day Ann Arbor Film Festival kicking off Tuesday won't have any elephants or tightrope-walkers (that we know of), but with more than 230 films, it will certainly have plenty to captivate cinephiles with its own version of the greatest show on earth.
(SCROLL DOWN FOR VIDEO)
Marking its 50th year, the Ann Arbor event is the oldest continually operating experimental film festival in the country. It's made it through censorship controversy and funding cuts, and according to the Detroit Free Press, the festival has screened more than 5,000 films. Over the years, it's played host to filmmakers both critically lauded and widely adored, such as George Lucas, Andy Warhol and Yoko Ono.
To honor the anniversary, this year's fest will take a look back at the work shown there since '63. But don't expect a whole week of nostalgia and rehashing. The festival's executive director, Donald Harrison, told the Detroit News that rather than limit the number of new films to make room for the old, organizers expanded the festival instead, with 50 more events this year than last year.
"Along with all the new films, contemporary works and competition films, we're going to be playing a lot of historic, rare and archival films from throughout the festival's history," Harrison said. "So people are going to get a chance to see what has changed, what is different."
The festival will screen an incredible range of work, including a retrospective of one of LGBTQ cinema's founders, Japanese avant-garde shorts from the 1970s, music videos in competition, a collection of work from the Arab world and student films from across the region. For a full list of the events taking over the Michigan Theater and downtown Ann Arbor, including features, documentaries and shorts, as well as artists talks, panels and parties, see the Ann Arbor Film Festival's website.
But if you're too budget-conscious to shell out $95 for the full six-day pass, or just need to decide what's worth making the trek from out of town, HuffPost compiled a list -- with the help of a couple experts -- of some of the most notable and not-to-miss events from this year's Ann Arbor Film Festival. Let us know in the comments what you're planning to see!
Ann Arbor Film Festival 2012: Top Picks
From a short documentary about a former world champion of women's professional wrestling to propaganda to restore Pluto as a planet, the organizers are pulling out all the stops for opening night. Of particular note is a 2011 short from animator and Academy Award Nominee Don Hertzfeld, "It's such a beautiful day." "Don Hertzfeldt's Kafkaesque animation looks like it was made in 1902 and mostly funny as hell," the Detroit Institute of Arts' Director of Public Programming Larry Baranski explained. "He's been out of circulation awhile, so looking forward to this." Above, watch a clip from "I Am So Proud of You," an earlier film in the series.

Wednesday, March 28 at 9:30 p.m. in the Michigan Theater, the festival will take a night to celebrate the history of LGBTQ cinema, with filmmakers Barbara Hammer and Tina Takemoto in the audience and taking questions. They will show films ranging from 1965 to 2011, including work from Jose Rodriguez-Soltero, Mike Hoolboom, Ira Sachs, Takemoto and several films from Hammer, including "Dyketactics," above.

Curator Irina Leimbacher will show work from Palestine, Israel, Lebanon and Morocco at 7 p.m. on Thursday, March 29 at the Michigan Theater. She will present short films from Danielle Arbid, interviewed above, Walid Raad, Ali Cherri, Mona Hatoum, Sharif Waked and Bouchra Khalili. What does it mean to speak one's history and the dreams and nightmares that inevitably accompany it? How is history told, and perhaps more importantly, how is it felt? These six short films from the Arab world take very different approaches. From familial intimacies to unfamiliar leaps of the imagination, from straightforward cartographic narratives to twisted and brilliant allegories, each work forcefully and passionately evokes political realities that, for the most part, still define our world today.

In its first year, the AAFF devoted an entire program to experimental filmmaker and Canyon Cinema founder Bruce Baillie's work; this time around, organizers planned a three-part retrospective showing 13 of his films and getting film lovers riled up in anticipation. At Thursday's event, happening at 7:15 p.m. in the Michigan Theater's Main Auditorium, Baillie will speak after the films with Scott MacDonald. The second event will take place at 1 p.m. on Saturday and the third event, showing "Quick Billy" and others, will happen at 3:30 p.m. on Sunday.

Curated and presented by Tomonari Nishikawa and David Dinnellavant at 5 p.m. in the Michigan Theater, SPACE / TIME collects 10 16-mm films from the '70s and '80s. "Avant-garde or mainstream, Japanese films of this period leave me especially speechless," said Baranski. Above, see "Spacy" by Takashi Ito.

"Star Wars" fans will get a kick out of seeing George Lucas's first film, a futuristic thriller adapted from a short film he made in school. "THX 1138" shows at the State Theatre at midnight on Friday and Saturday. Check out the trailer above.

In this 2011 documentary by Jafar Panahi, a filmmaker put on house arrest by the Iranian government and banned from making films, subverts his censorship by making a movie about himself. "This Is Not a Film" will have a free screening at the University of Michigan's Museum of Art Helmut Stern Auditorium at 2 p.m. on Sunday.