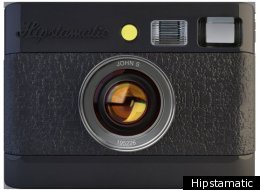 Sure, Instagram is a great camera app. It's fun, addictive, and something like 15 billion of you have downloaded it to be your primary shooter on the iPhone. But now that you've taken pictures of a Chipotle burrito with every possible filter, you might be ready to move on to bigger and better iPhone photography apps.
Below, we've captured ten of our favorites. Some of them are filter-focused Instagram replacements; others are so chock full of shooting features that they'll make you wish you could delete the Camera app that comes with your iPhone; still others are single feature utilities that enhance what you can do as an iPhone photographer.
Here are our picks, and if we've missed your favorite, let us know in the comments. (If you like what you see here, you might want to check out our slideshow of the best Retina-ready apps for the new iPad.)
9 Great Photography Apps For iPhone (That Aren't Instagram)
The customizable Hipstamatic camera attempts to "bring back the look, feel, unpredictable beauty, and fun of plastic toy cameras of the past"; it gives you, iPhone photographer, the option to swap camera lenses and film and change up your flash settings, creating heavily-filtered photographs that look like Polaroids. A download of Hipstamatic costs $1.99 and comes with four lenses, three different kinds of film, and three different kinds of flash. You can also purchase in-app upgrade "HipstaPaks," which come with one lens, one film, and one flash for 99 cents apiece. Combining all of these effects makes for good, addictive fun. Hipstamatic also comes with the option to order "analog" versions of your prints online and have them delivered to your door. Hipstamatic isn't exactly the hippest, most underground photography app out there -- after millions and millions of downloads, it probably reached its mainstream apex when New York Times war photographer Damon Winter used the app to illustrate a story about the war in Afghanistan -- but it is an excellent option for filter-heavy iPhone photography. Hipstamatic is $1.99 on the iTunes Store. CORRECTION: An earlier version of this article stated that the New York Times war photographer was James Estrin; it was actually Damon Winter.

One of Time Magazine's 50 Best iPhone Apps of 2011, Camera+ is cleverly titled: It's your iPhone camera PLUS a lot of helpful professional photography features that Apple's standard camera just doesn't have. You can adjust focus and exposure with your fingers; choose scene modes like Beach, Sunset, Portrait, and Nighttime; add borders and Instagram-like filters; and line up your shots with on-screen grid lines. The app comes with an attractive and intuitive interface (see above) that makes controlling the results of your picture-taking easy; it also comes with a robust editing suite for post-shot polishing. If you take your iPhone photography seriously, Camera+ is a solid purchase. Camera+ is 99 cents in the iTunes Store.

A silly little camera app best enjoyed with friends, IncrediBooth replicates the experience of a photo booth at a carnival or video arcade. You point your camera toward yourself (and hopefully, your friends (and even more hopefully, wearing silly hats)) and IncrediBooth takes four photos, which it spits out onto a kind of digital photo strip. You can save any individual photo from the strip, or the strip itself, onto your iPhone. IncrediBooth, which is 99 cents, comes with four filters (provided by the aforementioned Hipstamatic). You can buy additional filters for 99 cents apiece. IncrediBooth is $0.99 in the iTunes Store.

CameraSharp is a full-featured, fast-loading camera that is all about super-creative control: - There is Sound Shutter, which allows you to take photos of you and your friends by clapping or whistling (that's me whistling above, starting a two second self-timer); - Self-Timer, which you can set by spinning two fingers in a circle on the screen to set the length of time before the photo takes; - Separate Focus and Exposure locks, which you can drag around the image before you take a shot to get the right lighting; - Continuous Mode, for bursts of photos or time-lapse photos, with adjustable intervals between shots. - Big Button Mode, which allows you to touch anywhere on the screen to take a picture... ...and more. Oh, and one other thing: CameraSharp very proudly advertises that it does NOT connect to Facebook, as it is "all about taking the best photo." It does save to your camera roll, and you can email your results and all that -- just no Facebook. (In an age of frictionless connectivity, it is perhaps the first openly anti-Facebook app I've ever encountered.) CameraSharp is $1.99 in the iTunes Store

The other day, a proud new parent (and colleague) was complaining to me that he needed a smartphone whose camera could open super quickly and immediately be available to take photos, lest he miss his littlest one doing something adorable. Fast Camera could help: As soon as you open the app, Fast Camera begins taking 8-megapixel photos as fast as it can and doesn't stop until you press a button. (If you're wondering just how fast "Fast Camera" is: The developer claims it can take up to 800 photos per minute; it's pretty dang fast). It's not super customizable as a shooter, per se: You can choose rear camera or front, VGA or 8 megapixel; landscape or portrait; and you can also set the delay between pics, from "None" to 1/10 second to 1/5 second to 1/4 second and so on. There is also a self-timer, if you want to take a whole bunch of group shots at once and choose from the best. The main attraction, however, is the auto-starting burst of photos that you get whenever you open the app. With Fast Camera, you may never have to miss that fleeting, once-in-a-lifetime shot -- or first step. Fast Camera is $0.99 in the iTunes Store.

GroupShot advertises itself as "magic," and it really might be. You know how, during photo shoots with a large group of people, you sometimes get the perfect picture of everyone, except one person who's blinking or yawning or unexpectedly bleeding for some reason? GroupShot is insurance against this in the coolest way possible: You can simply look at all the photos you took of the group and add in whichever face you want, to create the group photo you want to keep. Here are the steps: 1. Take a bunch of group photos. 2. Rub your finger over the person's face you want to replace. 3. GroupShot shows the faces from other photos that it can stitch onto the original photos. 4. Choose the best face. 5. GroupShot performs some "magic" and integrates that face into your photo. You're done! In our tests, this worked flawlessly and was fun to show off around the office, too. Expect to see this technology --implemented like this, in the simplest way possible -- elsewhere in the near future. GroupShot is available for $0.99 in the iTunes Store.

Aside from reminding us of one of the all-time greatest infomercials (with Vince!), we like CamWow as a straight-up Instagram alternative for those photogs obsessed with filters. CamWow offers 20 free filters and effects, all of which you can see in real-time on a four-by-four grid of live cameras. You simply touch the filter you want to take a photo. It's a neat representation of the different options you have using a camera with multiple filters. The download is free, but you have to pay $1.99 to get rid of the ads and the CamWow watermark on your photos (if you so choose). CamWow is free in the iTunes Store.

A photographer friend assures me that this is "probably the best HDR app in the app store;" I have no reason to disagree. Pro HDR combines two photos -- one optimized for hightlights, one for shadows -- and merges the two together to create the best one. It also comes with a powerful (if ugly) editing suite, which now features 20 filters, 15 frames, and the option to add text to your photos. Pro HDR is $1.99 in the iTunes Store. You might also check out HDR FX, for an HDR camera with an emphasis on filters, which is a free download until April 23, 2012.

We all love Gifs, right? Those short, soundless, animated slices of hilarity that have dominated the Internet and the way we represent our emotions and reactions online? Now you can create your own, on the iPhone, for free! Gif Boom takes up to 20 photos in a row and stitches them together for you; you can add filters, colorful frames, and change the speed and direction of the gif in a simple post-production editing suite. Above, you can see a sample of Gif Boom's output (sorry for the nightmares). Gif Boom is available for free in the iTunes Store.

Finally, Flixel is more of a curiosity than a must-have camera replacement. Like Gif Boom, Flixel's output is a Gif; like Gif Boom, Flixel allows you to animate your photos, taking quick shots in succession. Unlike Gif Boom, however, Flixel gives you a unique option: You can choose the portion of a photo you want to animate, leaving the surroundings static. See above, and my mouth. Flixel's new (you can read a good profile here at Fast Co. Design), but it boasts a simple interface -- you just drag your finger over the area you want to animate and press "Done." It's fun, and easier to use than competitor Cinemagram; unlike the $1.99 app Cinegram, it doesn't cost any money to try, which, you know, seems like a benefit. Flixel is free in the iTunes Store.

Maryam Mehrtash shows us a couple apps that allow you edit your photos on your iPhone: Photo FX and Retro Camera. These apps let you edit your photos to give them any look and feel that you want.