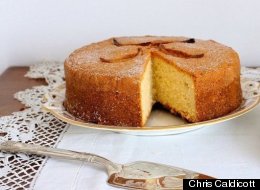 We all know that dessert is the best part of any meal. No matter how much we love our appetizers and main entrees, or how much we claim to not care for sweets, there's something about eating dessert that makes any meal feel like a special occasion. And we're not talking about a little something sweet such as a cookie or brownie, we're talking real desserts, like cakes and trifles.
It's not often that we indulge in elaborate desserts, especially when cooking at home, but with Easter right around the corner it's the perfect time to make an exception; and everyone will be glad you did. From very chocolatey Sachertortes to Lemon-Honey Semifreddos, we've put together a collection of desserts just perfect for the Easter holiday.
What's your favorite Easter dessert? Leave a comment.
This cake is a real show stopper. And the best part is, it's just a simple bundt cake. The frosting on top really makes it special since it's full of bright, citrusy flavors. Get the Lemon-and-Orange-Glazed Pound Cake recipe

Coconut is a perfect flavor for Easter. It's creamy, rich and decadant but feels just right for the spring time. When paired with the bright flavors of lemon, like it is in this recipe, it will surely be a hit. Get the Lemon-Filled Coconut Cake recipe

This simple cake only calls for a handful of ingredients -- but it's all you need to please a crowd. It's the power of the egg whites that makes this cake so light, fluffy and moist. And, it's delicious when topped with fresh fruit. Get the Angel Food Cake with Orange Essence and Agave Nectar recipe

Austrians are famous for their desserts, and this cake is famous in Austria. It's not your everyday chocolate cake, since the cake layer itself is a bit dry, but when served with whipped cream, its dense and rich flavor will more than satisfy all chocolate cravings. Get the Sachertorte recipe

Nests are an appropriate them for the Easter holiday, and a light meringue with fresh fruit topping is the right way to end this spring-time holiday meal. Get the Meringue Nests with Roasted Rhubarb and Strawberry Sauce recipe

Madeira cake was given its name because it used to be served alongside the fortified wine, Madeira. It's a simple cake, dense and buttery, and is a classic teatime treat. It also makes a great dessert, especially when served with whipped cream and fresh fruit. Get the Madeira Cake recipe

This light, citrusy dessert is the perfect way to end a big Easter meal. The bright flavors of the mousse and granita will leave you wanting more and the almond toppings provide just the right texture to this mousse-y treat. Get the Citrus-Granita and Orange-Mousse Parfaits recipe

This cake is sure to get you lots of compliments, and you won't even have to work that hard for them. The three layers are simple to prepare, and the flavors blend together harmoniously. Get the Chocolate Caramel Raspberry Mousse Cake recipe

Sometimes it's the simplest flavors that make the most impact. This cake is a simple white cake layered and frosted with homemade caramel. It's a spin-off of a classic Latin American dessert. Get the Revelatory Caramel Cake recipe

You can't go wrong with a combination of chocolate, hazelnut, cream and pound cake. And once you have all the ingredients, it's just a matter of layering them together -- and having the patience to allow the flavors to meld. Get the Chocolate-Hazelnut Trifle recipe

A grown up -- and inverted -- version of the ice-cream sandwich, this dessert is just the treat to serve at Easter. Lady fingers with orange marmalade form the middle layer and a lemon-honey creamy semifreddo make up the bottom and top. Get the Lemon-Honey Semifreddo recipe

Take your pudding recipe up a notch by baking it into a rich, buttery and flaky pie. Serve with freshly-made whipped cream to make a truly luxurious treat. Get the Vanilla Puddin' Pie recipe

The colors of spring and Easter are represented in this tropical dessert. Pineapple is the star ingredient; not only does it top the cake, but a fresh pineapple curd is used as a filling, too. Get the Pineapple-Coconut Layer Cake recipe

Ice cream cake isn't just for kids anymore. This meringue cake is an adult version of that childhood treat. Whipped cream is frozen between two layers of meringue which tastes particularly good when served with an espresso hot fudge sauce. Get the Frozen Chocolate-Chip Meringata recipe

Treat your loved ones to this pretty, not to mention tasty, traditional Easter bread.