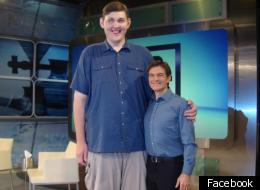 The tallest man in America had just one small wish -- to buy a pair of shoes that fit. Thanks to generous donors, his $16,000 dream has come true.
Standing at 7-feet, 8.33-inches, Igor Vovkovinskiy, 29, was named the tallest man in the U.S. in 2010. Unfortunately, the Guinness World Records recognition didn't come with the perk he really needed, a pair of size 26 shoes.
Vovkovinskiy told The Huffington Post that his feet are "terribly deformed" and that he's undergone 16 surgeries and a total of three years of bed rest. The "shapeless clogs" he wore for years exacerbated the problem, leading doctors to one conclusion.
He needs laser scans on each foot to properly craft a pair of shoes his size.
The Minnesota student needed to raise $16,000 to pay for the procedure, so he took his cause to the masses. He launched a campaign, "Igor Needs Shoes," and within six days of setting up his fundraising page, he far surpassed his goal.
Donors contributed $34,090 at press time.
'Thank you so much to everyone who made this donation drive happen!!" Vovkovinskiy wrote on his fundraising page. "I cannot believe my eyes at the amount and the generosity of the people. Thank you all.'
Just how big are Vovkovinskiy's feet? Click through our slideshow to find out.
SLIDESHOW:
How Big Are Igor Vovkovinskiy's Feet?
Igor Vovkovinskiy is a 29-year-old paralegal student in Rochester, Minn., who is America's tallest man according to Guinness World Records. He claims he hasn't had a decent pair of shoes in five years and is unsure of his exact shoe size, but estimates suggest he wears a size 26, 8E.

Vovkovinskiy's feet are longer than a roll of aluminum foil.

Vovkovinskiy's feet overwhelm this DVD of "The Matrix."

Vovkovinskiy's feet are bigger than this reference book that is used as a reference point.

Vovkovinskiy's feet are three times as big as the Playstation 3 controller.

Vovkovinskiy's feet compared to his mom's shoes.