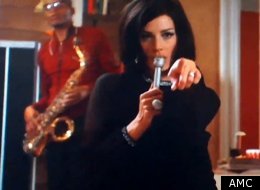 Since the ratings-high Season 5 premiere of "Mad Men" this week, fans can't stop talking (and thinking) about a sexy dance number from Megan Draper (Jessica Pare) as she serenaded Don Draper (Jon Hamm) with "Zou Bisou Bisou."
The Huffington Post took the time to mash up some of the most iconic TV dance moments with Megan and her classic French track.
From Elaine embarrassing herself on "Seinfeld" to Bart daydreaming about his dancing stardom on "The Simpsons" and Lisa's injury-inspired "Saved By The Bell" move called "The Sprain," check out the mashup below!