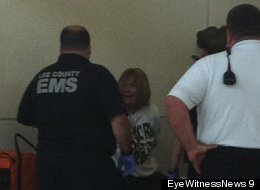 A female passenger on a Fort Myers-bound U.S. Airways flight was restrained and put in hand ties on Tuesday after attacking crew members.
U.S. Airways flight 1697 was headed from Charlotte to Fort Myers when the woman reportedly got out of her seat and attacked flight crew. She spit in their faces, knocked one flight attendant to the ground and kicked them, NBC17 reports. One female flight attendant was even left with bruises and bandages.
An NBC reporter, who was in the terminal in Fort Myers, witnessed the woman get taken off the plane by police as she screamed and cried (see photos here). According to NBC, a Florida sheriff's deputy happened to be on board and helped tackle her. Flight attendants told the station that the woman complained of being scared of flying prior to the incident.
A spokeswoman for the airport authority in Fort Myers, confirmed that police arrested a U.S. Airways passenger but would not provide further details to the Associated Press.
The incident comes less than a day after a JetBlue captain went berserk on a plane he was co-piloting to Las Vegas.
Passengers attacking flight crew is, unfortunately, nothing new. A drunk Delta passenger caused a flight crew member to have a bloody nose in January. And in November, an off-duty NYPD cop intervened in a scuffle between a passenger and crew member on a JetBlue flight.