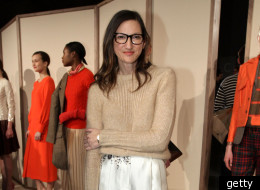 J. Crew's creative director Jenna Lyons may be ensnarled in a nasty divorce at the moment, but that's good news for Depeche Mode founder Vince Clarke, who just snatched up Lyons' absolutely stunning Park Slope apartment. Her pad hit the market after her public fallout with husband Vincent Mazeau.
Curbed reports Clarke purchased the seven bedroom townhouse on 178 Garfield Place for a cool $4 million, 7 percent above Lyons' original asking price of $3.75 million first listed in November.
It's looking like 2012 is treating Clarke well, as the musician also just reunited with ex-bandmate Martin Gore to release a new album, "VCMG."
As for Lyons, she's moving to American Express Carriage House in Tribeca! Mazel tov to both.
Here's a Depeche Mode tune to celebrate Clarke's new digs: