'Draping' In NYC: Mad Men Tebowing Meme Comes To Don's Hometown (VIDEO)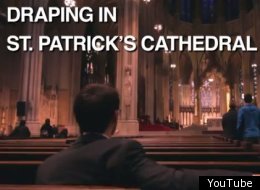 In the long 17-month hiatus between seasons four and five of "Mad Men," fans had to keep busy somehow. And since the gap happened to fall during the rise of Tebowing, Owling, Planking, and any number of gerund-intensive Internet memes, it was only a matter of time before a "Mad Men" version would come along -- in this case 'Draping.'
The concept is simple: the meme-goer sits down, "drapes" their arm over the back of their seat, and starts praying they can pull off a shred of Don Drapers' cool. Some have been more successful than others, and many have documented their attempts at Draping on the meme's "official" Tumblr blog or on Twitter through the #draping hashtag.
Now a particularly ambitious group of Drapers has taken the meme to Don's hometown of New York City, arming themselves with Don's characteristic nonchalance to create a montage of Draping in Time's Square, St. Patrick's Cathedral, and other New York hotspots.
Check out the video above. And after you're done, start bracing yourself for the inevitable emergence of "Zou Bisou Bisou-ing.