This week we're seriously inspired by the bundles of great home design ideas found in DIY expert Janet Lee's new book, 'Living In A Nutshell'. One of our favorites? This very creative wall storage idea, which features a mounted board kitted out with stretchy, affordable rubber boating straps that hold items. Scroll down for an excerpt about this project from the book.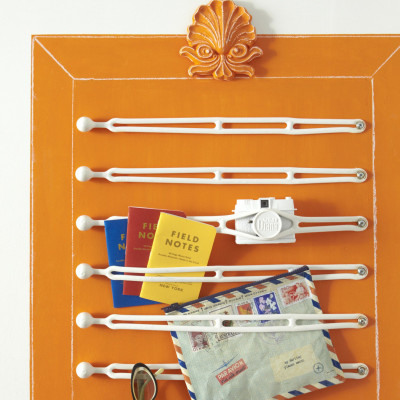 Photo by Aimée Herring and 'Living In A Nutshell'
Ranking: One-nighter
It's easy to let a catchall corner run amok. These white rubber boating straps maintain their cool while keeping everyday essentials like keys, mail, sunglasses, even cameras from taking over a foyer. Boating straps are extra strong, happily won't mar or scratch, and look graphic and trendy in multiples. Simple screws and washers keep the straps in place. Give them a whirl in a kid's room or put them to work in a home office as a hip storage alternative.
In a Nutshell: If you're really pressed for storage space, maximize your vertical real estate when it comes to organizing your daily go-to items like keys, bills, and your clutch. Whether it's hooks or rubber straps, storage hardware hung in multiples makes anything they harness look pulled together and opens up valuable table space.
Excerpt from 'Living In A Nutshell' by Janet Lee, published by Harper Collins. For more ideas, visit livinginanutshell.com.
Have something to say? Be sure to check out Stylelist Home on Twitter, Facebook and Pinterest.
For more wall storage ideas, also watch this: