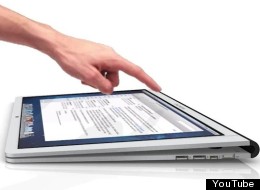 After Apple introduced the iPhone's touchscreen technology in 2007, it was only natural that fans would start speculating as to whether it would ever be incorporated into the company's massively popular MacBooks. But with characteristic conviction, Steve Jobs' put at end to those rumors in 2010 when, at an unveiling for the OS X Lion, he declared that "Touch surfaces don't want to be vertical."
For the Lenovo Yoga's sake, let's hope Jobs was wrong about that. And also because a new concept video, posted on YouTube earlier this week by French architect Olivier Terrisse, shows how awesome a 'MacBook Touch' could be, combining the MacBook's sharp display with a flip-and-fold design.
Unfortunately, it doesn't look we can be looking forward to a MacBook Touch anytime soon. But if the latest rumors are true, Apple fans should have enough to get excited about over the next year: In addition to the 4G iPhone 5, which a number of sources have said will be released in October 2012, the company is also rumored to be developing a mini 7.5-inch version of the iPad as well as an Apple TV, which could be here in time for the holidays.
Check out the video above and tell us whether you'd buy a MacBook Touch.
Flip through the slideshow (below) to view out our last edition of Apple rumors here:
This Week In Apple Rumors(CLONED)
Perhaps you have heard of the myth of Sisyphus? Sisyphus was a King of Corinth who was punished to push an enormous stone up a hill, only to have it roll back down that hill; he would then have to push it up the hill again. He repeated this tedious, back-breaking task into eternity: Push the stone up, watch it fall down, push the stone up, watch it fall down, push the stone up, watch it fall down. Speaking of which: With the latest iPad having been unveiled, let us now move on to iPhone rumors! Unverified reports about this iPhone have been swirling for a good 13 months now, making them, in some sense, more successful than any relationship I've ever been in. Many still think that this iPhone, possibly to be released in October or thereabouts, will be the slimmer, lighter, 4-inch iPhone that was rumored to come out last October. (It didn't, as you'll recall -- the iPhone 4S has a 3.5-inch display and is not a 4G device, no matter what AT&T tells you). Now, add another rumor to the pile: Taiwanese publication DigiTimes claims that Apple's next iPhone will be 4G LTE enabled, a safer bet given that the iPad 3 new iPad comes with the option for 4G. 4G is perhaps more important for the iPhone than it is for the iPad, given the range of non-WiFi locations we use it in -- Apple has been battling design constraints and battery problems to get its smartphone 4G-equipped. Given the prevalence of faster 4G smartphones, and the presence of 4G LTE on the latset iPad, I'd be very surprised if the next iPhone didn't follow the iPad 3 into 4G world. Speaking of the iPad 3: You're probably sick of reading about it (actually, probably not, if you clicked on this and made it this far), but if you AREN'T, then you will be incredibly pleased to know that...

Despite the late Steve Jobs' professed hatred for 7-inch tablets, Apple has, for about six months now, been rumored to be working on a smaller iPad (which the press calls the "iPad Mini"). Now, no one knows whether Apple is seriously working on an iPad Mini for release, or working on one the way that most people "work on" that novel they've been meaning to write -- but they may be, the very least, toying with the idea. Analysts have said that this iPad Mini would be insurance for Apple against the Kindle Fire; prototypes have been spotted on the supply chain in Asia; and now an unnamed executive at Samsung, the Apple frenemy who produces screens for the iPad, has told the Korea Times that Apple is planning on releasing one by the end of this year (using Samsung displays, of course -- ka-ching!). Victor H. over at PhoneArena sums up what this means quite nicely: Now, while the focus of the executive's message [is] the fact that Apple will spend more on Samsung parts, having a confirmation of the real possibility for a 7.85-inch iPad from a Samsung official is probably even bigger news. I will here note that all tech companies, including Apple, produce many prototypes that never make it to market. And this could just be a Samsung exec drumming up its future prospects, as an iPad Mini would undoubtedly make the display-maker eleventy-bajillion dollars. But given the sheer volume of these rumors -- now coming not just from the supply chain, but from an executive of a company involved in it iPad production -- makes the potential release of a 7.85-inch iPad, at the very least, not totally impossible. (A ringing endorsement, I know!) Speaking of rumors that just won't die, let's check back in on that Apple television set that doesn't exist yet, shall we? Yes, we shall!

So says analyst Peter Misek of Jeffries & Co., who expects large-scale production to begin this summer and for the final product to be released some time between October and December of 2012, or just in time for the apocalypse. Other than a release date, Misek doesn't have any other juicy Apple television bits (which is good, because they would probably short-circuit the wiring, am I right?!). Many are expecting the Apple television to revolutionize the TV experience in some way, as suggested by late-CEO Steve Jobs telling biographer Walter Isaacson that he had "cracked it" ("it" referring to the apparent problem he had with television). There are various rumors (surprise!) about what this revolution will look like; you can read about the most popular rumor at the New York Post. (The televisions pictured above, by the way, are made by Samsung. Wink wink, just in case you want to start speculating about who will be suing whom when this thing finally comes out.) I know I've mentioned this before, but did you know that Apple also makes computers? Like, with monitors and physical keyboards and stuff? Well, they do! And one guy says that these "computers" are due for a major overhaul. When? Try the next couple months on for size, big shot.

When it comes to laptops notebooks, thin is in, judging by the explosive success of the MacBook Air and the projectile-vomit-like torrent of super-slim PC Ultrabooks that are hitting shelves now. And if a recent rumor is true, thin might not just be in -- it might be the only option. The UK Tech site Electricpig spoke with an anonymous source at a Mac accessories conference who told them that Apple is planning on releasing a 15-inch MacBook Air in April(!); the source thinks that this would all but kill the MacBook Pro, as Apple would then shift to skinny-only notebooks. Electricpig also says that this MacBook Air won't have an optical drive nor room for an ethernet cable. No word on how the hell I'm supposed to load my old copies of Myst without that optical drive, but keep in mind that this is just a rumor. Apple might very well keep its MacBook Pro around awhile as a lower cost option, or as an option for power users. That's it for This Week In Apple Rumors. Make sure you check back next week, when I will once again push an incredibly heavy rock to the top of the hill, only to have it fall back down and crush my 15-inch MacBook Air rumor.

The New iPad gets compared to the iPad 2 in processor and data speeds.