Teenager Quotes: 20 Inspirational And Funny Sayings From Tumblr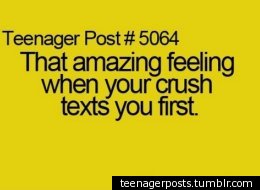 In case you didn't know, we're kind of obsessed with Tumblr at HuffPost Teen.
While, admittedly, a lot of our Tumblr-time has been spent looking at awesome Hunger Games animated gifs lately, we have also come across a totally addictive account: Teenagerposts.tumblr.com. It features quotes that are sometimes funny, sometimes inspirational, and always so true. Check out our top 20 favorites below and share your own #ThatAwkwardMomentWhen ideas with us in the comments, on twitter, or on Tumblr!