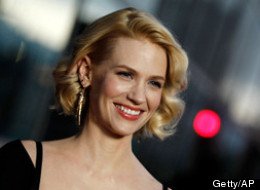 "TMI!" That's the reaction some onlookers are having to the recent slew of celebrity parenting news.
From Alicia Silverstone's video manifesto for the controversial practice of pre-chewing -- which became enough of a national story to merit analysis from Dr. Nancy Snyderman on NBC's "Today Show" this week ("There's nothing dirtier than the human mouth," she said) -- to the ongoing coverage of January Jones' public comments about eating her placenta, there's been an overload of odd parenting prescriptions from big- and small-screen stars alike.
Actress Mayim Bialik's new book about attachment parenting, "Beyond the Sling," has placed the star's parenting philosophy squarely in the public sphere. Bialik -- who is a proponent of co-sleeping and (more controversially) refuses to use diapers -- stood up for some of her views in a debate on HuffPost Parents earlier this month.
Jessica Simpson -- whose collected quotations about pregnancy have already inspired a number of online anthologies -- was quoted comparing pregnancy to "carrying around a bowling ball." She's also reportedly gone back on her earlier promise to give birth in heels.
In other news, Snooki -- who tweeted a cleavage-heavy picture earlier this week, with the comment "I got swagger with my pregnant self" -- has been prepping for motherhood by taking care of a baby doll.
Are you interested in the advice (or antics) of celebrity parents or moms- and dads-to-be? Or do you think these stars should keep their philosophies private? Let us know in the comments below.
This celeb ignited a firestorm of debate this week by posting a video in which she fed her son, Bear Blu, "premasticated" food.

The '90s sitcom actress has made headlines with a new book, "Beyond the Sling," that promotes "attachment parenting."

Simpson has been prime tabloid fodder throughout her pregnancy. Like other celebrity moms before her, she posed nude for a magazine cover shoot; her pregnancy-related quips are well on their way to becoming iconic.

"Mad Men" is back -- but there's another reason January Jones is in the headlines. By telling People Magazine that she ate her own placenta, Jones invited oodles of extra publicity.

By all accounts, "Jersey Shore" phenomenon Snooki was as surprised to learn about her pregnancy as everyone else. ("S**t, I've been drinking!" was her first reaction to the news, according to Us Weekly) Since then, news of her developing pregnancy has graced the tabloids -- and the internet -- liberally.