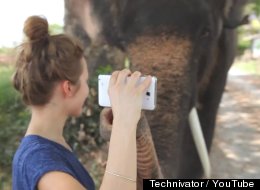 A huge number of us humans use technology daily, but not many others in the animal kingdom can say the same. That's what makes videos of animals using our gadgets so hilarious, heart-warming and, at times, mind-blowing.
Take Peter the elephant's video, for example, which shows the big guy flipping through pictures, playing an instrument, and even drawing an elephant friend on Samsung's Galaxy Note. It was posted on YouTube user Technivator's channel on March 26 and has since gone viral, garnering nearly 1.5 million views.
Of course, there are a handful of apps made specifically for animals -- even games you can play against your four-legged pals -- but it's more entertaining watching pets use people apps. Some of these critters are pretty tech-savvy, too. Flip through the slideshow (below) to see dogs, cats, birds and even a bearded dragon using our much-beloved gadgets just like we do!
Which video is your favorite? Do you have any similar ones to share? Let us know in the comments or upload your own video using the participation tool.
THIS IS BANANAS: 9 Animals Trying To Use Our Gadgets
Peter the elephant tries his hand -- or trunk, rather -- at using Samsung's Galaxy Note in this amazing video, and he seems to pick up on it rather quickly. Peter flips through pictures, snaps a few photos, and even sketches his fellow elephant friend like it's his job. [via Mashable]

This cat seems to be on a mission to win at Fruit Ninja. According to Ubergizmo, the game's creators tweeted the video back in December, and the video's caption states the talented cat received a score of 128 on the game's Arcade mode. [via Ubergizmo]

This bearded dragon shows human Ant Crusher players how it's done, missing only a few critters as he skillfully played the game on an Android phone.

This cat just wants to chow down on one of the digital fish, and we think he's earned that right. Once he gets used to the virtual water, he goes all in for those little swimmers.

Mishka the talking husky has gotten a lot of attention in the past from her ability to say words like "hello" and phrases like "I love you," and "I'm hungry." But now it seems the gifted canine has turned to singing as a pastime. The video above features Mishka singing along with an iPad app called LaDiDa, a "reverse karaoke app" that analyzes your voice, autotunes it, and creates music to match it. If you happen to dig her singing, you can download her song on iTunes.

Sure, the cockatiel above may not have been playing real music on this iPad piano, but some of the notes it hits with its feet do sound good with the prerecorded song that's playing.

Who doesn't like baby monkeys? Even better, who doesn't like baby monkeys playing with iPhones? Nala, a baby Capuchin monkey, is a cute cure to a horrible day as she happily plays an iPhone game called Lucky Coins, according to Gizmodo.

Watch a review of Donut Games new puzzler, Cats Physics.