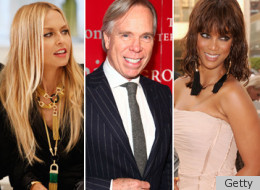 On the heels of revealing their annual "TIME 100" poll (vote now!), the folks at TIME have assembled several "All-TIME 100" lists, including the All-TIME 100 Fashion Icons.
The list is fairly exhaustive, categorized by Designers, Models, Muses, Photographers and Editors/Stylists. While it's not ranked (and we so wish it was!), the round-up of influencers is ambitious and far-reaching, including the old (Rudi Gernreich), the new (Lady Gaga) and everything in between. (See the whole list here!)
And yet, as with any list-making endeavor, there are bound to be oversights. Some might take issue with the lack of black, Asian and Hispanic figures; others may wonder where more "mainstream" influencers like Rachel Zoe and Tyra Banks have gone.
Below, we've rounded up a few more famous faces who might deserve a spot on the All-TIME 100 Fashion Icons list. Do you think any of these people belong? Are there other icons we -- and TIME -- have overlooked? Vote on the slides and let us know in the comments?
The Italian designer, at work since the '70s, was one of the first innovators to print on leather and later on denim, giving runway fashion a wilder, edgier feel. (WireImage photo)

This Hollywood stylist basically invented the profession as we know it, turning the once obscure job of dressing celebs into a mega-business. (WireImage photo)

If Avedon and Testino epitomize an old-world style of fashion photography (glamourous, soft, flattering), this New York-based photog is the poster child for a new kind of fashion photos: brash, bright and in-your-face sexy. (WireImage photo)

With his red, white and blue logo, Tommy's fashion brand screams "American icon." He's been honored by the fashion establishment (awarded the CFDA's Menswear Designer of the Year in 1995) but has more importantly seeped his way into the American zeitgeist as one of the country's most recognizable fashion brands. (Time & Life Pictures photo)

As an American designer, Karan revolutionized dressing for the modern working woman with her famous "Seven Easy Pieces" which debuted in 1985. (Getty photo)

As a longtime fixture on the Vogue masthead, Talley is one of fashion's biggest personalities and one of Anne Wintour's closest coworkers. (Getty photo)

The German photographer, who currently resides in Paris, is responsible for some of the most iconic fashion photos ever, including this era-defining Vogue cover from January 1990.

Tyra blazed her way from magazine covers (becoming the first African-American woman to cover the Sports Illustrated Swimsuit Issue) to catalogs (the first-ever African-American for the cover of the Victoria's Secret catalog) and then to business, founding "America's Next Top Model" and creating an empire.

As Andy Warhol and Bob Dylan's famous muse, Edie Sedgwick partied and modeled her way through New York in the '60s, reportedly spending her whole trust fund and inheritance in six months on socializing, drugs and clothes. With her silver-painted short hair and beatnik clothes, Edie ushered in the "unisex" craze and modeled for Vogue and Betsey Johnson before meeting her much-too-early death at age 28.

"You want to know what comes between me and my Calvins? Nothing." That one famous line catapulted 14-year-old Brooke Shields (and Calvin Klein) into fashion fame, launching Brooke's decade-spanning modeling career, at one point reportedly netting her $10,000 per day. In 1983, she covered two issues of American Vogue, as well as Italian Vogue and Paris Vogue.