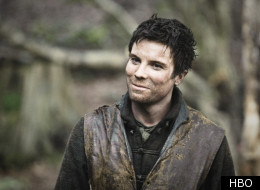 This week kicks off with the return of "Bones" (Mon., April 2 at 8 p.m. ET on Fox) and the medical drama's comeback is full of juicy twists and turns: In addition to the discovery of an escaped convicts' remains that suggest he was murdered in prison, Brennan (Emily Deschanal) welcomes a baby girl in an unexpected place.
On Wednesday, April 4 at 8 p.m. ET the cast of "One Tree Hill" will say their final goodbyes after a decade-long run. In what will surely be a tear-jerking episode, The CW drama's finale will be focused on the tenth anniversary of Tric, which brings old series favorites back to town.
"Best Friends Forever" hits NBC later on Wednesday. The female friendship-centered comedy features Jessica (Jessica St. Clair), a thirtysomething woman who is overnighted divorce papers and taken in by her best friend Lennon (Lennon Parham), much to the dismay of Lennon's boyfriend Joe (Luka Jones.) Plus, their neighbor Queenetta is the sassiest pre-teen you'll ever meet. Set your DVRs!
Click through our slideshow to see what else is worth watching this week.
"Bones" (8 p.m. ET on Fox) timeslot premiere The remains of an escaped convict are found in a residential sewer, but an examination of the sewer pipes indicates that the murder occurred within prison walls. Brennan insists on solving the crime -- despite Booth's pleas for her not to overexert herself -- and the expectant couple experiences a very untraditional arrival of their baby daughter.

"The Voice" (8 p.m. ET on NBC) We've finally reached the live performance phase of the competition, which will see the top vocalists from two teams competing against each other during a live broadcast in front of coaches Christina Aguilera, Cee Lo Green, Adam Levine and Blake Shelton. Results will air Tuesdays at 9 p.m. ET.

"Castle" (10 p.m. ET on ABC) A devilishly handsome detective from Scotland Yard, Simon Hunt (Brett Tucker, "Spartacus"), teams up with Castle & Beckett to find the person responsible for the murder of his friend's daughter. Also, Charles Shaughnessy ("Days of Our Lives") plays Nigel Winthrop, the Deputy General at the British Consulate whom Castle & Beckett suspect is up to more than just ambassadorial balls and diplomatic luncheons. Meanwhile, Lanie convinces Beckett that she needs to make a move on Castle before it is too late.

"Cougar Town" (8.30 p.m. ET on ABC) Travis wants to take Jules and Grayson's wedding pictures, but Jules, who wants everything to be perfect for her second wedding, isn't so sure. Meanwhile, Bobby wants to get serious with Angie (guest star Sarah Chalke), but does she feel the same way?

"New Girl" (9 p.m. ET on Fox) While training for a marathon, Jess discovers that Cece has been keeping a secret from her and their friendship is put to the test. Meanwhile, Winston can't handle being the only one who knows about Cece and Schmidt, and Nick reluctantly asks for Schmidt's help as he tries to juggle dating two women at once.

"Dance Moms: Miami" (10.30 p.m. ET on Lifetime) series premiere Following the 90-minute finale of "Dance Moms," its spinoff, "Dance Moms: Miami," will go behind-the-scenes at Miami-based Stars Dance Studio. The school's owners and renowned contemporary dance instructors Victor Smalley and Angel Armas teach, train and choreograph a diverse group of talented dancers, striving to become the best in the sport of competitive dance and tomorrow's stars.

"Savage U" (11 p.m. ET on MTV) series premiere The show follows author, columnist and "It Gets Better" project co-creator Dan Savage and his producer Lauren Hutchinson as they travel to college campuses across the country, taking students' questions and offering a crash course on relationships, responsibility, sex, love and life. Each college has its own campus culture, and Savage and Hutchinson dive deep into those worlds while exploring the "taboo" topics that people don't talk about -- and the ones that everyone wants to talk about. From learning how to avoid the "friend zone" to safely navigating online dating and one-night stands to kinks and fetishes, no topic is off-limits and every question is driven by the students themselves. Each half-hour episode is anchored by an open Q & A session in which Savage and Hutchinson address anonymous audience questions candidly, but with just enough heart and humor to make the topics a little less intimidating.

"One Tree Hill" (8 p.m. ET on The CW) series finale After almost a decade on the air, the resilient WB/CW soap finally draws to a close, and it's sure to be an emotional episode so stock up on tissues. In the final chapter of "One Tree Hill," the tenth anniversary of Tric brings old faces and new possibilities for the Tree Hill family.

"Best Friends Forever" (8.30 p.m. ET on NBC) series premiere Like the charming "Bent," "BFFs" has been consigned to midseason burn-off status, but it's amusing enough to warrant a second glance. When Jessica (Jessica St. Clair) is overnighted divorce papers, her best friend Lennon (Lennon Parham) convinces her to return home to Brooklyn and back into the apartment they used to share. The girls easily fall back into old habits -- none of which is good news for Lennon's live-in boyfriend Joe (Luka Jones). Meanwhile, Jessica adjusts to her new single life by reconnecting with old friends like Rav (Stephen Schneider), but her new efforts meet the critique of their precocious nine-year-old neighbor, Queenetta.

"Happy Endings" (9.30 p.m. ET on ABC) season finale If I had my way, "Happy Endings" would run fresh episodes all year round. Sadly, I'm not in charge of ABC's scheduling, so we have to bid farewell to our hilarious group of misfits until the fall. The gang find themselves at yet another wedding; this time, the nuptials of Derrick (Stephen Guarino reprising his role) and Eric (Nate Smith). Will there be "DRAMA," to quote Derrick? Of course, as Brad struggles to tell Jane something important; Jane tries to find a way to help Eric hide the fact that the pricey reception must be downscaled; and Max tries to find the courage to perform with his old all-male Madonna cover band. Meanwhile, a dateless Penny is sad that she's at another wedding, alone, until she meets cute guy Chris (Brian Austin Green) via Skype.

"Community" (8 p.m. ET on NBC) What started as a casual disagreement about blankets and pillows blossoms into all-out war on the Greendale campus. While insults are hurled and the study group chooses sides, Jeff tries desperately to negotiate a truce, but with neither Abed nor Troy budging on their principles or their real estate, the future looks grim for the former best friends. (Part 2 of 2.)

"Person of Interest" (9 p.m. ET on CBS) When The Machine spits out five numbers, naming the Don of each of New York's crime families, Reese and Finch suspect Elias is planning to eliminate his competition.

"Scandal" (10 p.m. ET on ABC) series premiere In the first episode of the new Shonda Rhimes series, young lawyer Quinn Perkins is offered a job with the crisis management firm Olivia Pope and Associates. Olivia Pope is the former communications director to the President and she, along with her team of "gladiators in suits," will do whatever it takes to make clients' problems go away. Newbie Quinn is initiated into the group with trial by fire on day one. Olivia's former boss, President Fitzgerald Grant and his chief of staff, Cyrus Beene are never far from her beat -- and when a White House intern accuses the president of having an affair, Olivia is the only one they trust to diffuse the problem. But the news hits close to home for Olivia, and Quinn soon realizes Olivia's clients aren't the only ones with secrets.

"The Finder" (8 p.m. ET on Fox) timeslot premiere When new tracks are leaked from late rapper J-Stryke, music mogul Big Glade (guest star Curtis "50 Cent" Jackson) and his business savvy lawyer (guest star Salli Richardson-Whitfield), who is Leo's former love interest, ask Walter to find the source of the illegally released music. Walter and Leo locate the DJ streaming the tracks with the help of Willa's online hacking expertise. But as Walter pieces together the events that led to J-Stryke's death, he uncovers a more complicated history. Meanwhile, Big Glade's lawyer and Leo rekindle their romance. The episode was directed by "Bones" star David Boreanaz.

"Fringe" (9 p.m. ET on Fox) Lincoln travels to the other side to join forces with Bolivia and his own alternate, as they search for a vigilante with a surprising connection to the shapeshifters.

"Magic City" (10 p.m. ET on Starz) series premiere Ike Evans (Jeffrey Dean Morgan), owner of Miami's most glamorous hotel, needs his 1958 New Year's Eve concert to be a smash. He makes a deal with mobster Ben Diamond to ensure the party's success, but it's a bargain that soon comes to threaten his life and family.

"Q'Viva! The Chosen" (11 p.m. ET on Fox) season finale After a transcontinental search to discover the most extraordinary performers in Latin America, Jennifer Lopez, Marc Anthony and Jamie King reveal the final cast for the live show. The artists' unforgettable journey comes to a close in Las Vegas where they begin rehearsals for what will become the greatest celebration of Latin artistry, music and dance. But upon their arrival, Marc has one final surprise for the artists, and emotions run high as the judges and chosen performers see their life-changing experience come to fruition on stage.

"Saturday Night Live" (11.30 p.m. ET on NBC) "Modern Family" star Sofia Vergara hosts, while British boyband One Direction perform.

"Game of Thrones" (9 p.m. ET on HBO) In the wake of a bloody purge in the capital, Tyrion chastens Cersei for alienating the king's subjects. On the road North, Arya shares a secret with Gendry, a Night's Watch recruit. With supplies dwindling, one of Dany's scouts returns with news of their position. After nine years as a Stark ward, Theon Greyjoy reunites with his father Balon, who wants to restore the ancient Kingdom of the Iron Islands. Davos enlists Salladhor Saan, a pirate, to join forces with Stannis and Melisandre for a naval invasion of King's Landing.

"Nurse Jackie" (9 p.m. ET on Showtime) Showtime debuts a new night of fresh programming with the return of three series. In "Nurse Jackie," Jackie is coming to realize that both karma and sobriety can be a bitch. In addition to finally confronting her addiction, Jackie must also attempt to save her troubled marriage and keep her family from falling apart.

"The Big C" (9.30 p.m. ET on Showtime) In "The Big C," we'll discover how Cathy and her family are coping with the repercussions of Paul's death, if Sean has moved back indoors, and if Andrea (Gabourey Sidibe) has taken out a hit out on her ex-fiancé for jilting her at the altar.

"The Borgias" (10 p.m. ET on Showtime) "The Borgias" finds Pope Alexander seeking to consolidate his power and enlisting his family to take an oath of revenge on the houses that dared stand against him, causing his Papacy to face political turmoil once again. But Alexander's real problems lie with his children, all of whom are growing up and defying his authority.

"CSI: Miami" (10 p.m. ET on CBS) season finale When one of the CSI's biggest enemies is murdered, Horatio must determine which of his team members is a suspect. Malcolm McDowell returns as ruthless Attorney Darren Vogel.