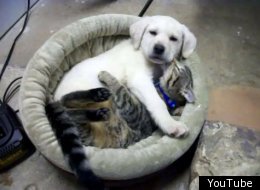 In our quest to prove that cats and dogs do indeed get along, we've already shown that both sets of animals are willing to share food with each other. Now we move to another shared activity: grooming.
Cats are famous for their ability to clean themselves. Dogs...well, not so much. Thankfully, though, cats have shown that they're more than willing to groom their dog pals from time to time so that everyone is nice and clean.
Check out our favorite videos of cats grooming dogs, and don't forget to vote for the cutest!
You've got something in your ear.

When the grooming is done, Lexi gets up to leave, so Jack the tabby cat makes a desperate reach for his pal to stay.

Kitty face wash.

Perfect, just stay like that while I clean your fur.

Quick grooming session before the dog goes out to play.

Finally, some time to relax and enjoy a grooming after a long day of running around and barking.

This could take awhile.

Giant dog being groomed by an adorable little kitten. Enough said.

Isabelle is clearly too exhausted to groom herself, so Weezie takes care of it.

Obviously the sunbeam has put this cat in a good mood, so he offers to groom his friend Baxter.

Before bedtime, the puppy needed a good grooming.

Miko is so relaxed by the grooming that he just falls right to sleep.

That little white patch always gets dirty.

While the big pup is preoccupied, the cat swoops in to do some grooming.

Holding the puppy in place for the grooming.