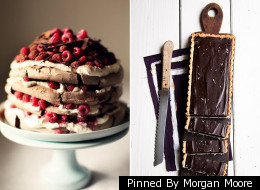 We're sure you've all heard about Pinterest by now, and are aware of its highly addictive qualities. It's a great social sight that makes it really easy to discover amazing new things you would've otherwise never come across. And it's all thanks to great Pinterest pinners.
When someone does a job well done, they deserve recognition; this is true in almost all aspects of life and it's also true of pinners. And so, without further a do, we would like to commend Pinterest user Morgan Moore. She finds, and pins, inspiring recipes (some of them she has made herself) and also has some other fun boards to check out (we especially like her dream kitchens).
Click through the slideshow below to check out our favorite Morgan Moore pins (we apologize in advance for contributing to your Pinterest abuse problem).
Do you have a favorite food pinner? Let us know!
Pinterest User Morgan Moore
You might not want to cut into this cake (for fear that it will topple over), but it sure is a beautiful sight. And while we might not all be rushing home to recreate this recipe, we sure are glad to have come across it.

We love these sugar cake decorations; they're so unique and quarky and fun. If you're into baking, you might want to check out Andie's Specialty Sweets. We're sure happy we learned about them while poking around on Pinterest.

Don't you wish you were invited to this dinner? Or even better, wouldn't you love to throw a feast such as this with an abundance of guacamole, hot sauce, fresh salsa and tacos.

We had never thought of making a lavender-honey dark chocolate tart with a cardamom-lemon crust, but now we're impatient to try it. Sounds amazing.

This gorgeous example of a chocolate cake is a real show stopper and a must try recipe. It's got the right amount of over-the-top frosting and is the perfect size.

Lemon pound cake may not sound like anything special, but when it's beautifully frosted and nicely packaged it feels like a real treat. We love the use of yellow bakers twine to highlight the bright flavors of the loaf.

This cake will be the centerpiece of any table; it would make a nice addition to the Easter spread. We love crepe cakes because it gives us a break from baking. It's just a matter of assembling all those layers of sweet crepes.

Who knew citrus could look so beautiful? The range of colors are a real delight and the food styling was admirably executed.

With summer poking its head around the corner, it's not too soon to start thinking about fun outdoor party ideas. The mason jar presentation has been around for some time, but we love the idea of serving it as a ready-to-go drink.

If you like poppy seed cake, you'll love poppy seed donuts. And these donuts are just asking for you to take a bite out of 'em.