Brides Personalize Weddings With Handmade Bouquets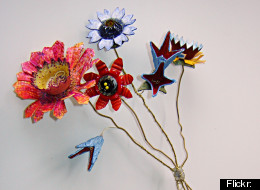 When Carol Ann Vivrette was planning her wedding four years ago, her fiance encouraged her to bring her crafty nature to the day. Hundreds of hours and yards of yarn later, she had knit and felted flowers for her wedding party, from her own calla lily bouquet to the corsages of her two grandmothers.
Why toss the bouquet when you can keep it forever?