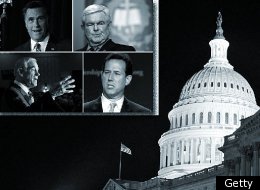 The Washington, D.C. primary results are expected to produce a win for former Massachusetts Gov. Mitt Romney on Tuesday night.
Former U.S. Sen. Rick Santorum did not meet the qualifications to appear on the ballot in the nation's capital. The Wisconsin primary and Maryland primary are taking place the same day.
HuffPost's Mark Blumenthal reports:
Thus, at a minimum, Romney appears likely to win 80 of the 95 delegates up for grabs on Tuesday. Coupled with a symbolically powerful sweep of all three contests, the night should be sweet for the Romney campaign.
Click here for a rundown on who's ahead in the race for the Republican presidential nomination.
Below, a live blog of the latest developments to unfold on primary day.
Democrats are deeply invested in keeping the Republican primary going. And the statement offered by Democratic National Committee chairwoman Debbie Wasserman Schultz following Mitt Romney's three primary wins on Tuesday night showed that desire from the first sentence.
Mitt Romney has significantly more work to do before he can become the Republican nominee, and he is doing incredible damage to himself along the way. His pandering to the extreme right wing of the Republican Party has done him great damage with women, Hispanics, and independents, all of whom will be critical in the general election. That's because the policies he advocates would do massive damage to American families who are striving to get ahead. Just in the past week, Mitt Romney called Wisconsin Gov. Scott Walker a 'hero' –- a man who has turned his back so thoroughly on middle-class families, seniors and workers that voters are seeking to recall him from office. And Romney has accepted the endorsement of and praised Rep. Paul Ryan, whose budget proposal -– endorsed by Romney -- would end Medicare as we know it so that millionaires and billionaires could get a tax break. Ryan's budget, embraced by Romney, would make arbitrary cuts to programs essential to middle-class families like education and clean energy.
-- Sam Stein