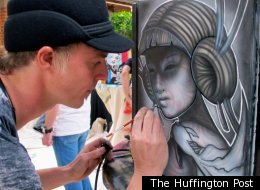 The fraught relationship between corporate sponsorship and street art will once again be on display this Thursday, when 20 emerging street artists from all over Southern California compete in a Red Bull-sponsored competition. The stakes? Three all-expense paid trips to a "Red Bull Curates" group show during the Art Basel season 2012 in Miami, where they'll have the opportunity to exhibit and sell their works to tens of thousands of artists, art gallery reps, art fans, and, of course, art buyers.
The energy drink company is partnering with the Arts Fund, a branded entertainment company, to produce this contest and three more in Chicago, New York and Miami throughout the rest of the year, which will produce 12 semi-finalists that will compete against each other for a still-to-be-determined grand prize in Miami.
For the past two days, the LA artists have gathered at Lab Art, a street art gallery on La Brea Avenue, to put their personal stamp on Red Bull drink coolers that will then be voted on at a Thursday night launch party. After the three winners are announced, all the drink coolers are headed to various hotspots around town (like Tropicana Room, The Brig, Silverlake Lounge and Akbar) where they will live, permanently stocked with Red Bull drinks.
When The Huffington Post visited Lab Art Monday evening, a handful of artists were putting the finishing touches on their coolers. Street artist Cristian Gheorghiu, better known as Smear, described his work on the piece to The Huffington Post as "hanging out, drinking beers and bullsh*tting." When asked what his work was titled, he tossed out the company motto as a joke: "Red Bull Gives You Wings!"
Likewise, artist THANK YOU X smiled when he said his piece, entitled, "Not For Sale," was about "selling out."
See profiles of five artists from Thursday's competition in the slideshow below. To see all the pieces and vote for your favorite ones, attend the Red Bull Curates launch party on Thursday, Apr. 5 at 9 p.m. For more information and to RSVP to this free event, visit RedBullUSA.com.
Photos by The Huffington Post.
Name: Hans Haveron Age: 32 Piece: "Reflection" Inspiration: "This piece is about time being still, letting everyone come to the surface," said Haveron. "Then the fish of your spirit will come up to feed." Techniques: Airbrush, colored pencil, calligraphy and stencil. About the artist: Haveron lives and works in Santa Monica. You can catch his art on display at C.A.V.E. Gallery, Fine Art Direct Online and LA Art Machine.

The canvases that were taped down on the floor will travel with the competition from city to city, and each artist puts their own mark or signature on the moving floor. Hans Haveron drew this goldfish near his work station. "It's a Buddhist Telescope goldfish," Haveron said.

Name: Bryan Snyder Age: 31 Piece: "The Three Stooges" Inspiration: "It's going to be put in an Irish Pub," explained Snyder, "and I feel like the whole vibe is drunk, loud and exciting, with lots of goofing around -- just like the Three Stooges." Snyder used the three panels of the drink cooler to tell a story. In this photo, Snyder holds up a sketch of the piece, which shows Moe and Larry pulling Curly's ears. Techniques: Snyder used the drip technique within the boundaries of stencils. "It's a painting paradox," said Snyder. About the artist: Snyder lives in Carlsbad, Calif. but spends about half his time working in Los Angeles. Check out more of his pieces at SnyderArtDesign.com.

Name: Cristian Gheorghiu, aka SMEAR Age: 36 Piece: "Red Bull Gives You Wings," Smear joked. Inspiration: "Something in my mind told me not to think about it too much," said Smear. "It's a little bit of this, a little bit of that." Techniques: Collage, handprint, spray paint, oil stick and acrylic and brush. About the artist: The East Hollywood-based artist has been arrested numerous times for tagging. Since then, his gallery career has taken off, but it hasn't been without setback. In Mar. 2011, LA City Attorney Carmen Trutanich ordered officers to raid his home and confiscate the "vandalism tools" he used for his gallery art.

Name: Kophns One Age: 25 Piece: Untitled Inspiration: Kophns One's cooler is headed to The Viper Room, and his piece is inspired by the history and imagery of the rock'n'roll venue. Techniques: Acrylic paint and pencil About the artist: Catch his work at The Site Unscene and the streets of Echo Park. Kophns One has close ties to the Los Angeles Youth Network, a homeless shelter for teens. He hopes to one day raise enough money to start an arts program at the shelter to give teens a creative outlet and teach them about how to make a living from art. "I dropped out of school in the 9th grade," said the artist, "and now I make bank painting on sh*t."

Name: LEBA Age: 27 Piece: Untitled Inspiration: "We didn't have to take the bar into account," said LEBA, "but I did. I wanted to capture the energy of the Silver Lake Bar, with its red, yellow and green walls." Techniques: Acrylic on canvas, water color and spray paint. About the artist: When asked where he was from, LEBA answered, "South County." Asked to clarify, he said he preferred that term to Orange County because of its association with surf culture. Catch LEBA's work in Maximillian Gallery and The Site Unscene.