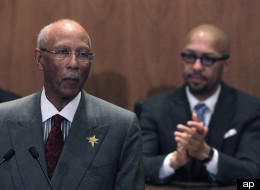 UPDATE: Wednesday 4:30 p.m. -- The state-appointed financial review team for the city of Detroit voted to approve a consent agreement for the city at a meeting Wednesday afternoon. All seven present team members voted to approve the agreement. Three team members were absent.
(SCROLL DOWN FOR UPDATES)
Previously...
Detroit City Council President Charles Pugh says he wants the council to vote on a consent agreement Wednesday so that Michigan Gov. Rick Snyder doesn't appoint an emergency manager to run the city on Thursday.
The consent agreement is one option the governor has as he weighs a March report that Detroit is in a financial emergency. The city could run out of cash to meet payroll next month and faces a $270 million projected deficit. Snyder said the other option is appointing an emergency manager -- a state-appointed official who would have the power to overrule elected officials, sell public assets and break city contracts.
Mayor Dave Bing and some city council members want to avoid an emergency manager, and Snyder has pushed for the city to adopt a consent agreement to enhance state oversight of city operations and create a deficit-elimination plan.
The most recent draft of the agreement would create a nine-member financial advisory board with power to approve budgets and contracts, and instate a chief financial officer and a project management director with final say on spending and city operations. Bing and Deputy Mayor Kirk Lewis are pushing for city council to approve the agreement.
"We need to get this behind us and move forward," Lewis told reporters after meeting with the mayor Wednesday. Lewis is acting for Bing as the mayor recovers from intestine surgery.
The consent agreement must be approved by a state-appointed financial review team assigned to Detroit, the city council, the mayor and the governor.
Lewis was confident he could get five city council members to approve. "I think they're there to pass this, so we can move forward and get back to really running the city," he said.
Challenges to the proposed consent agreement are in and out of court. On Wednesday, a state appellate judge overturned an earlier ruling preventing Detroit's financial review team from meeting. The team met Wednesday to decide whether to sign the consent agreement.
Meanwhile, a federal judge is is considering a lawsuit from city unions, who claim the consent agreement breaches their good-faith bargaining over new, concession-heavy city contracts. The unions want Judge Arthur Tarnow to block the consent agreement and push the city council to ratify their new contracts, but he delayed his decision until next week.
If signed, the consent agreement would likely face further court challenges. An opinion from the city law department found the deal might violate Detroit's city charter.
"Although the city may enter into the proposed agreement, the city council should be cognizant of the potential legal challenges that may arise," corporation counsel Krystal Crittendon wrote.
During a Tuesday meeting, four council members said they do not support the consent agreement; Kwame Kenyatta and JoAnn Watson called any vote for it illegal. Brenda Jones and Andre Spivey also oppose it. "It won't be in there, the stuff I want," Spivey said. "I know my vote."
He continued to add feedback to the document, however, saying, "I don't agree with this, but if it passes I want to make sure I can live with it."
Pugh, Ken Cockrel Jr., and James Tate met with state Treasury and Bing administration officials to draft the latest version of the agreement. Pugh said Tuesday he wasn't happy with the result because it didn't include direct cash assistance from the state, but he preferred it to an emergency manager.
"I don't want to take the risk and then we go into an emergency manager or Chapter 9 bankruptcy," he told reporters following the meeting. "Whatever we need to do, I'm willing to do."
Tate posted a cryptic message on his Facebook page Wednesday morning, but seemed likely to support the deal. Council President Pro Tem Gary Brown also backs the plan.
Saunteel Jenkins remains the swing vote. In recent days, she's echoed her colleagues' calls for money from the state, but hasn't indicated whether the lack of cash will push her to vote "no" on the plan.
The council planned a special session for 5 p.m. Wednesday, shortly after the Detroit review team's scheduled meeting, but a final decision isn't guaranteed. If council delays or rejects the agreement, Snyder has indicated he will move forward with the appointment of an emergency manager Thursday.
This is a developing story. Check back here for updates.
Randy Lane, a Detroit certified public accountant, said the Council misunderstands the city's finances and cash-flow situation.
"You look at that analysis and in the first 7 months you're cash positive. It didn't get into a deficit until you look at the projections."
Lane urged the Council to take more time to consider the city's finances.
"I implore upon you to take some time, step back from this, take your right and what the people elected you to do and demand that you have access to cash flow and other information suggesting you will run out of cash. Thus far all you have heard are scare tactics. Don't give up power, make them take it."