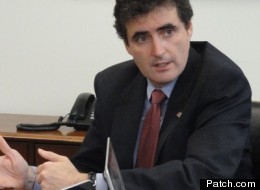 WASHINGTON -- A progressive push to defeat 10 Tea Party-affiliated Republicans has named its two newest targets Wednesday, with the addition of GOP House stalwarts in tough districts.
The liberal CREDO Super PAC launched a multimillion dollar bid to take down the "Tea Party 10" in February, when they identified the first six candidates, among them conservative champions such as Reps. Steve King (R-Iowa), Allen West (R-Fla.) and Joe Walsh (R-Ill.).
Two additions -- the more conservative Rep. Dan Lungren (Calif.) and the more moderate Rep. Mike Fitzpatrick (Pa.) -- have more of a situational allegiance to the right, but they are in competitive districts that they could actually lose. CREDO also points to votes by both candidates to do things like defund Planned Parenthood, redefine rape and support the GOP budget that Democrats see as gutting Medicare and programs for the poor.
Democrats need to win 25 seats to take back control of the House.
"Rep. Dan Lungren is the Rick Santorum of California, and Rep. Fitzpatrick is one of the war on women's biggest champions," said Becky Bond, Political Director of CREDO. "If our grassroots activists can reach out to enough voters in the districts of Lungren and Fitzpatrick and share the message of these Republicans' extremist Tea Party votes, our efforts can make the difference between victory and defeat in November."
Below, the first group of Republicans announced by CREDO:
Duffy, a former contestant on MTV's "Real World" who entered Congress last year, drew criticism when he told constituents that he struggles on his $174,000 a year salary. "I drive a used minivan," he said during a town hall meeting last March. "If you think I'm living high off the hog, I've got one paycheck. So I struggle to meet my bills right now."

After the Department of Health and Human Services announced new guideliens that would require health insurers to do away with co-pays for birth control, King took to the House floor in August to express his concerns with the policy. "Preventing babies from being born is not medicine," he said. "That's not constructive to our culture and our civilization. If we let our birth rate get down below replacement rate we're a dying civilization." King's comments weren't his first to raise eyebrows. The Iowa congressman has also described same-sex marriage as a "purely socialist concept," and called President Barack Obama a racist, claiming that he "favors the black person." King was also the only congressman to not acknowledge the role slaves played in constructing the U.S. Capitol.

West has quickly become one of the most outspoken freshmen in Congress, making a number of offensive comments about his colleagues. In his first year of office, West incited a feud with fellow Floridian and DNC Chair Rep. Debbie Wasserman Schultz, called Rep. Maxine Waters (D-Calif.) a "plantation overseer," and compared Democrats to Nazi propagandist Joseph Goebbels. West began 2012 on a similar foot. During a dinner with the Palm Beach County GOP, he said that liberals like President Obama, Sen. Harry Reid (D-Nev.) and House Minority Leader Nancy Pelosi (D-Calif.) should "get the hell out of the United States of America."

Last fall, a video of Walsh screaming at some of his constituents went viral. After one attendee at a "Cup of Joe with Joe Walsh" event in Gurnee, Illinois asked Walsh about the role of bank regulation in the financial collapse, Walsh launched into a rant. "Don't blame the banks ... that pisses me off," he said. "It's not the private marketplace that created this mess. What created [this] mess was your government." Walsh has also caught heat for his refusal to pay child support to his former wife. Walsh's ex-wife, Laura, has said that the congressman now owes over $100,000.

Guinta, formerly the mayor of Manchester, was included on the Citizens for Responsibility and Ethics in Washington's list of most corrupt members of Congress, citing an unreported personal bank account with hundreds of thousands of dollars in assets and loans he made to his own campaign.

Cravaack came under fire last summer for hosting private events in Duluth, Minnesota -- his district's most populous city -- including a $10-per-head meeting, but no public town halls. The congressman had previously campaigned on the platform that members of Congress should be more in touch with their constituents. Cravaack eventually folded under pressure from protesters and scheduled a public town hall. The congressman was also criticized for moving his family to New Hampshire, although he had made his opponent former Rep. Jim Oberstar's residency in his district an issue in his 2010 congressional campaign.

Fitzpatrick has drawn the ire of many left-leaning activists for his steadfast alignment with the Tea Party-centered policies pushed with the help of freshman representatives ushered in by 2010's wave elections. His tenure in Congress also began with controversy, when it was reported that he'd missed his own swearing in ceremony because he was at a fundraiser.

Lungren has established himself as a key target of Democrats because of his staunch anti-abortion views. His votes against women's choice and health have led CREDO to label him "California's Rick Santorum."