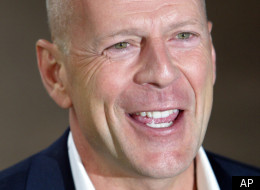 BY ASSOCIATED PRESS
KETCHUM, Idaho -- Bruce Willis says he's willing to give away his central Idaho ski resort to a nonprofit.
The action star has already put his lavish home in nearby Hailey, Idaho, on the market – it's listed at $15 million – along with his local bar and nightclub, The Mint – listed at about $4 million.
Willis, best known for the "Die Hard" series and "Sixth Sense," has owned the ski area since the late 1990s. It boasts 1,150 acres of in-bounds terrain, and its three lifts give access to a vertical rise of 1,425 feet.
Soldier Mountain is popular with families, serving as a laid-back alternative to the swanky Sun Valley ski resort about 65 miles away.
Willis' Soldier Mountain Development owns and operates the ski hill on public land under a U.S. Forest Service special-use permit.
At least one nonprofit has expressed interest in his offer.
John Palan, with the local Soldier Mountain Recreation Association, says his group is hoping to get enough help from donors to take over the ski area's operations.
"If we can get our ducks in a row, seek sponsors and new members, we would like to transfer the Forest Service permit and continue operations," said Palan, who also is a longtime Soldier Mountain employee.
The ski area has been operating at a loss for several years, Palan said. He did not elaborate.
There are 30 nonprofit ski areas operating in the United States, said Ted Beeler, president of the ski area planning and design firm SE Group. The company was hired in 2006 to prepare a master development plan for Soldier Mountain.
Beeler said transferring ownership to a nonprofit entity would allow for tax-deductible donations to keep the operation afloat.
Willis and his former wife, Demi Moore, became part of the celebrity scene in Idaho's posh Sun Valley region during the 1990s. Last year, Willis put his home – complete with a guesthouse, gym and pool with water slides – on the market for $15 million. In 2010, he put The Mint bar and nightclub on the market for $6 million but later dropped the price to $4 million.
Willis' publicist Paul Bloch said he has no comment on the matter.
To read more inspiring stories of celebrity giving, click through our slideshow below:
SLIDESHOW:
Being a "Belieber" means so much more than just fawning over the teen heartthrob's sweeping hairdo -- it also means keeping up with the pop star's constant charity giving, from auctioning off his bike to playing in a basketball fundraiser game. The pop star's most recent generous endeavor was launching a charity campaign along with his holiday album. It benefited seven charities, including Pencils of Promise and City of Hope. "I know firsthand that if you believe in your dreams, everything is possible," Bieber said on his website. Find a charity you "Beliebe" in here.

For her outspoken support and advocacy for members of the LGBT community, Lady Gaga was honored with the Trevor Hero Award earlier this month. "Our young people are at the center of a health crisis, and vocal leaders like Lady Gaga...have stepped up to help change our culture," David McFarland, interim executive director and CEO of the Trevor Project, said in a statement. One of the many "You and I" singer's charity initiatives this year included auctioning off nude photos and a naked portrait of herself on eBay to benefit her Born This Way Foundation. Learn more about Gaga's charity, launching in 2012, here.

Determined to end the famine that took the lives of nearly 30,000 children in Africa, Bono, who is a HuffPost blogger, commissioned the help of big-name celebrities to produce The F Word: Famine is the Real Obscenity, a short film that informs of the famine's devastating effects. Sign ONE's petition here to call on world leaders to help.

It wasn't enough for Scarlett Johansson to just a write a check for those suffering from hunger and drought in East Africa. The actress, an Oxfam ambassador, chronicled her experience through a series of exclusive HuffPost blogs. She described the conditions, learned about long-term solutions and met with pastoralists and farmers who described a sense of hope amid heartache -- ultimately galvanizing others to get involved in the cause. To help Oxfam continue to save famine victims, donate here.

Ten years after getting inspired to help refugees while filming "Tomb Raider" in Cambodia, Angelina Jolie is still fulfilling her mission to raise awareness for global humanitarian issues with the UNHCR. Jolie was honored for her decade of service in October and was asked to take on the expanded role of "special envoy" to the nations that are struggling the most. Help give a voice to refugees by donating to UNHCR here.

Curtis "50 Cent" Jackson made an about-face in 2011. The HuffPost blogger, motivated by his struggles growing up, launched a line of energy drinks that provides meals for families in Africa. Jackson also wrote a book this year on bullying -- acknowledging he was once part of the problem. Help 50 give back by visiting his site here.

To teach kids how important it is to advocate for countries that don't have clean water, Matt Damon dressed up as Santa Claus for Christmas and told the children perched on his lap how wishing for a Water.org bottle this season could hep bring potable drinking water to those in need. Support Water.org's holiday campaign here.

When the historic Congo election came with ballot stuffing, intimidation and a lack of support for women and illiterate voters, Ben Affleck headed out there in December to investigate what was happening on the ground. This HuffPost blogger returned with a three-part series, co-written with Cindy McCain, about the injustices people in the region face.

In true form, Ashton Kutcher mixed entertainment and information, aiming to reach a wide audience in April when The Demi and Ashton Foundation launched a huge campaign to spread awareness about sex slavery. The launch video for the campaign, featuring Arianna Huffington, spurred conversation about the issue and brought to light the harsh facts surrounding trafficking. Take action to fight sex slavery by visiting the DNAFoundation here.

Ellen DeGeneres was named the Obama administration's new secret weapon this year in the fight against AIDS. DeGeneres was deemed the new special envoy to raise global awareness, the Associated Press reported. Sec. of State Hilary Rodham Clinton cited DeGeneres' "sharp wit and big heart, and her impressive TV audience and 8 million followers on Twitter." The TV host also supports animal, poverty and breast cancer organizations, among dozens of other charities. Support DeGeneres and the work of the Global Fund here.

To help breast cancer sufferers facing the disease that she overcame, Sheryl Crow helped found the Sheryl Crow Imaging Center -- in conjunction with L.A.'s Pink Lotus Breast Center -- which offers the latest advancements in digital screening and diagnostic imaging technologies. The only one of its kind in the country, the center provides free treatment to uninsured women. Want to help a patient in need? Donate here.
___
___