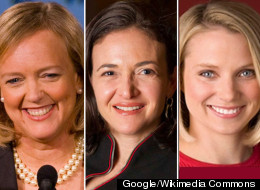 On April 3, we posted a slideshow of the top 11 most influential young leaders in tech, according to PeekYou, a search engine that ranks people based on their influence around the web and on social sites like Facebook and Twitter.
A few of you pointed out in the comments that this list of young tech stars was lacking in women, so the PeekYou team decided to pull together a list of the most influential women in tech.
The powerful and talented women who make up the list below have been ranked based on their PeekScores, which range from 1 to 10 (the higher one's score, the "more important" one is on the web). According to PeekYou, one's PeekScore "takes into account your known presence and activity on the Internet, including but not limited to your blogging, participation in social networks, the number of your friends, followers, or readers, the amount of web content you create, and your prominence in the news."
Flip through the slideshow below to view the tech world's most influential females online, from powerful companies like Facebook, HP, IBM, Google and more. Then, check out our list of 10 up-and-coming female tech CEOs to watch out for, as well as 27 female tech founders to follow on Twitter.
Are you surprised by who made the list? Let us know in the comments!
PeekScore: 7.32 / 10.00 Ellen Kullman began her career at DuPont about 24 years ago, working her way from marketing manager up through the ranks of executive vice president to president to her current position as CEO and chair of the board, which she began on January 1, 2009.

PeekScore: 7.60 / 10.00 Virginia "Ginni" Rometty was appointed to her current positions as president and CEO of IBM just this past year, on January 1. One of her biggest accomplishments over the course of her 31-year career at IBM was the acquisition she led of consulting firm PricewaterhouseCoopers Consulting for $3.5 billion.

PeekScore: 7.68 / 10.00 In addition to co-founding HTC Corp., Cher Wang founded the computer processor supplier VIA Technologies, Inc. in 1987. Last October, Forbes named Wang "The Most Powerful Woman In Wireless."

PeekScore: 7.80 / 10.00 Safra Catz assumed the role of president of hardware and software company Oracle in January 2004. According to CNNMoney, Catz is the highest paid woman in business, with total earnings of $42,095,887 in 2010.

PeekScore: 7.89 / 10.00 Ursula Burns joined Xerox more than 30 years ago as a mechanical engineering summer intern and has held her position as CEO since July 2009. Shortly after becoming CEO, she led the $6.4 billion purchase of Affiliated Computer Services, the largest acquisition in Xerox history.

PeekScore: 8.00 / 10.00 Susan Wojcicki's run with Google started even before Google began. Back in 1998, Wojcicki rented out her garage -- the tech giant's birthplace -- to its co-founders, Larry Page and Sergey Brin, for $1,700 a month. After Google got on its feet, Wojcicki served as its first marketing professional, eventually reaching her current position as senior vice president of advertising in October 2010.

PeekScore: 8.22 / 10.00 At just 37 years old, Marissa Mayer is the youngest member of Google's executive operating committee. The talented exec joined the Google team fresh out of Stanford back in 1999.

PeekScore: 8.34 / 10.00 Sheryl Sandberg also has some ties to Google -- she used to serve as the company's vice president of global online sales and operations. Nowadays, Sandberg is one of the most powerful women in tech as Facebook's COO, a position she snagged in March 2008.

PeekScore: 8.98 / 10.00 Since becoming HP's new president and CEO back in September 2009, Meg Whitman has made some bold moves -- most recently, Reuters revealed her plans to combine the company's PC and printing divisions in order to streamline sales. While it's still yet to be seen whether Whitman can turn HP around, she certainly has enough experience to help her out: Prior to her current position, she served as president and CEO of eBay for 10 years, from 1998 to March 2008.

Sheryl Sandberg discusses marriage, her role as CEO of Facebook, and her high hopes for the future of women today.