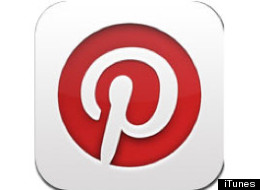 Party up, Pinterest users. Your beloved social image-bookmarking site has just reached (another) all-time high.
According to marketing service Experian, which recently released its 2012 Digital Marketer: Benchmark and Trend Report, Pinterest is now the third most popular social network on the web, behind Facebook and Twitter.
According to VentureBeat, just five months ago, in November 2011, Pinterest had occupied the number seven spot on Experian's list of top visited social networking sites, trailing behind Facebook, Twitter, Tagged, LinkedIn, MySpace, and myYearbook.
But since then, the site's been hitting huge milestones at a fast clip. Earlier this year, TechCrunch reported that the site hit 10 million monthly unique U.S. visitors faster than any other site in the history of the web. And Pinterest kept growing. About a month later, its traffic rose 52 percent, from 11.7 million unique visitors in January to 17.8 million in February.
Looking at Pinterest's growth over a longer period is even more mind-blowing: Experian pointed out that the nearly 21.5 millon visits the site received during the week ending January 28, 2012, was nearly 30 times the amount it received just six months earlier, during the week ending July 30, 2011.
Are you surprised by how quickly Pinterest has grown? Let us know in the comments! But before you do, make sure you flip through the slideshow (below) to check out 27 gorgeous Pinboards you need to follow. Then, visit our slideshow of tools that will turn you into a Pinterest pro! If Pinterest isn't your cup of tea, we've also got a roundup of 11 Pinterest-like sites that might cater to your specific interests.
Probably one of the cutest pinboards you'll come across, Thomas Hynes shows us what true universal love looks like through his "Interspecies Buddying" pinboard.

WARNING: You will want to indulge in a chocolate-covered something after viewing this pinboard. Natural and organic food store Whole Foods' "Sweet Tooth" board features delectable sweet treats that will set your stomach to growling.

And for craft-savvy grown-ups, there's Rhianna Baggs' "Best DIY Projects" pinboard, which is full of fun and easy DIY activities.

For all you '90s babies out there, BuzzFeed's "'90s Nostalgia" pinboard is perfect to scroll through when you're feeling the need for a trip down memory lane.

We all have them, though it's likely they're not nearly as bad as the ones shown on Allie Farrell's pinboard...at least we'd hope so.

What better way to learn about the world than by reading over a cool infographic? Social media and tech news website Mashable has compiled a number of infographics from around the web. Look through Mashable's infographic collection them to find out more about The Sims, what women want, Pinterest itself and much more.

Without a doubt, fashion is one of Pinterest's most popular topics. Who doesn't like to look at pretty clothes (that one may or may not be able to afford)? Fashion retailer Nordstrom has an extensive collection of shoes, jewelry, clothing, and more on their "Style delish" pinboard. (Shopaholics, beware!)

Check out colorful graffiti from around the world on Elaine Nasser's "Graffiti Art" pinboard.

The most exciting thing next to purchasing a brand new gadget is acquiring a cool accessory for said gadget. Scroll through Anilú Magloire's "Gadget Love" pinboard to find some of the most awesome products out there.

If you're unfamiliar with rage comics, we suggest you look through Deborah Myers' "Rage Comics" pinboard, an entertaining collection of some of the most humorous stuff on the interwebz.

Tracy Adams' pinboard is full of forts, tents, and tree houses that'll make you want to take a break from work to play in one of them.

Keep up with the latest female-related news with Hello_Ladies' "The War on Women" pinboard.

Many a pinboard is devoted to some kind of food, but since pizza is especially delicious, Deborah Hunter's mouth-watering pizza pinboard deserves its moment in the spotlight.

Jason Nickolay's "Sports, Sports, Sports" pinboard covers...well, sports. Through images and short, but informational captions, Nickolay's board provides a great snapshot of the sports world.

Seamus Condron has collected some awesome movie print remakes on this pinboard.

Scroll through Sarah Wulfeck's "Oddities And Fascinators" pinboard to enjoy strange, yet interesting photos.

The title for Elizabeth Rhoades' coffee-inspired pinboard pretty much says it all.

Architecture buffs especially might enjoy Vicki and Joey Froelich's stunning bridge-filled pinboard.

Car junkies, feast your eyes upon automotive vehicles of all shapes, colors, and sizes -- and make sure to thank Jukka Aittakumpu for compiling the images, while you're at it.

Organizing can be a hassle, but Michelle Baker shows with her pinboard that it can be a fun, creative activity, too. If you've been running out of new ways to organize your stuff, make sure to check out her "Organization" pinboard.

Looking for tattoo ideas? Zellain Dystopia's "Tattoos" pinboard might be a great place to start finding some good ones.

Greg Clayman claims his pinboard is the "best whisky board on pinterest." With nearly 1,000 followers, it's clear he must be doing something right.

Julie Ellen's "Retro Retro" pinboard is a stylish collection of blast-from-the-past images.

Pinterest super-user Christine Martinez sheds light on some of the coolest furniture out there with her "Fabulous Furniture" pinboard, especially useful for those looking to furnish their home with unique and colorful pieces.

Phoenix Artistry's caption for "Geekery" is perhaps the best description for the pinboard shown above: "All things nerdy, awesome, radical and insane in the membrane."

Colleen Hanten seems to have a great eye for beautiful, natural images -- just check out her breath-taking pinboard, "The Natural."

Lefa's "littles craft" pinboard is full of creative kid-friendly art project ideas that you can try at home.

Denise Mares:My Pinterest board: I'd rather go to bed hungry... Mid-Century Food

MariaV:Every Easter I make egg trees from Pysanky, a traditional art form. I find all sort of inspriation from the net.

natoof:Arabic calligraphy is one of the most beautiful form of art: http://pinterest.com/natoof/arabgraphy/

Lisa Cintron:And for the history buffs Capitivating Castles by Lisa Cintron shares images of illustrious castles throughout the world. Who doesn't like to dream about being a princess or prince living in an exotic castle?