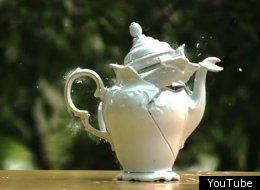 This isn't your typical tea party. From smashing glasses and tea cups to exploding eggs, "Tea Party in Super Slow Motion" offers a brief glimpse into the spectacular world of high frame rate, slow motion video.
Video for the YouTube clip was captured using a Phantom Flex Camera, according to the video's description. The powerful color is as mesmerizing as the speed and amazingly high frame rates of between 3,200 to 6,900 frames per second.

Can't get enough jaw-dropping images? Check out Jim Kramer's water droplet photography captured with a high-speed camera or Pery Burge's short film showing liquid soap in action.