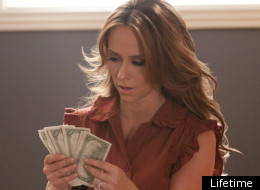 For Jennifer Love Hewitt, one time playing an erotic masseuse on TV just wasn't enough. "The Client List," the made-for-TV movie she earned a Golden Globe nomination for, is now making its debut as a TV series (premieres Sun., Apr. 8, 10 p.m. ET on Lifetime). They've made a few changes -- her name is Riley instead of Sam, and she's now a struggling single mom -- but one major thing is still the same: She's raking in the big bucks selling sex. And she's not alone.
In honor of the many "happy endings" we're sure viewers will see in "The Client List's" first season, we rounded up some of TV's other memorable strumpets, call girls, manwhores, gigolos, ladies of the night and hookers with hearts of gold.
We now get to see the real deal in action on Showtime's racy reality show "Gigolos," but remember Tori Spelling's controversial turn in "Co-Ed Call Girl"? How about HBO's well-endowed male prostitute on "Hung"? There are even hookers on more wholesome shows, like "Dr. Quinn, Medicine Woman." Seriously.
So click into our gallery -- free of charge -- to see some more surprising examples of stars who've loved like pros on the small screen.
TV's Most Memorable Working Girls
Most struggling college students wait tables or tend bar to help with tuition, but not this "Co-Ed Call Girl." Prostitution pays, but Joanna soon learned that the money came at a price.

Apparently, Dr. Michael Mancini had a thing for working girls. After an abrupt move to LA, Sydney (Laura Leighton) became desperate for a job, and turned to prostitution. Later on, she managed to find a job as a waitress instead and also found what become a very relationship affair with her sister's ex-husband Michael, who was then involved with Kimberly Shaw. Sydney drama aside, when Kimberly is unable to sleep with her husband, she hires a prostitue, Megan (Kelly Rutherford) to lure Michael. Unfortunately for Kimberly, the relationship doesn't remain professional. These days, both ladies of the night play maternal roles on teen soaps: Leighton plays Hanna's mom on "Pretty Little Liars," while Rutherford is Serena's mother on "Gossip Girl."

There's something very mysterious and shady about Tyrion's "whore," Shae. Despite being banned from accompanying Tyrion to King's Landing, he plots to bring her anyway, and along she goes. Beautiful, warm and charismatic, Shae has Tyrion completely smitten -- we just hope she doesn't end up screwing him over (pun intended).

We got three steamy seasons of high school coach Ray Drecker manwhoring for money to make ends meet on HBO. We loved watching Ray awkwardly navigate his needy clients, and his insane entourage in tow -- including lady pimp Tanya (Jane Adams), a client-turned-co-pimp (Rebecca Creskoff) and Ray's ex and two kids.

Who says working on the streets for the down-and-out? Belle (also known as Hannah Baxter) was an intelligent and educated young woman, who had a blast leading a double life as a part-time call girl.

Vlem wasn't exactly the classiest of prostitutes, but she sure knew how to cheer up a newly-single Jack Donaghy.

Getting Chuck Bass into bed is generally an easy feat on The CW drama. But he was completely taken aback upon the discovery that Eva, the adorable French girl he'd been dating, was a well-known prostitute.

Frank (Danny DeVito) liked the hooker he hired so much, he wanted to marry her! And that's not just because she was good in bed; it was also her crass personality. The gang was not thrilled by crack-and-alcohol-addicted Roxy so they tried to clean her act up. Dee took her to an upscale store where she poured vodka on a $500 jacket, taking Julia Roberts' "Pretty Woman" character to a whole new level. Unfortunately, all did not end well for Roxy, who died of a crack overdose before Frank could propose.

Yes, we know it's inaccurate to refer to Baccarin's gracious "Firefly" character as a prostitute. She was so much more to her clients: She was a friend, a confidante, a lover and something of a psychologist as well. She was refined, worldly and compassionate, but Inara was also tough and determined, all of which made her wildly attractive to Mal Reynolds (Nathan Fillion). There are a million reasons to lament the short TV run of "Firefly," but not having a chance to see Inara and Mal eventually get together is a big one.

Wait, what? A prostitute on the wholesome 'Dr Quinn'? Yep, it's true -- Myra was one of the original "hookers with a heart of gold" who worked at the local saloon. Her story ends well, though; she marries the town's telegraph operator, Horace Bing, and eventually has a child with him.

Four years after she was killed off "The O.C." -- and numerous legal troubles later -- Mischa Barton returned to the small screen as a guest star on a Season 11 episode of NBC's "Law and Order: SVU," entitled "Savior." Barton appeared as Gladys, a pregnant prostitute who seemed to have been spared in a series of murders of young hookers.