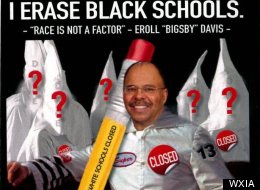 From a contentious school redistricting debate among Atlanta Public Schools has emerged an even more controversial flier that depicts APS Superintendent Erroll Davis in a Ku Klux Klan robe.
"They erased answers, I erase black schools," the bill reads, referencing the widespread teacher cheating scandal in Atlanta that shook the country and the current school redistricting plan that could shut down schools in some of the city's oldest black communities. The flyer made its rounds at a meeting Thursday between APS officials and parents of D.H. Stanton Elementary, the only school in Peoplestown, Ga., which could face closure under the APS plan.
(SCROLL FOR IMAGE)
The school district has about 47,000 students but more than 60,000 seats, WSBTV reports. APS seeks to close the less populated schools in an effort to save money. It would solve overcrowding on the north side and eliminate empty seats on the south side, according to WXIA. But that also happens to overlap with a number of the district's black communities, which has stirred protest.
"Most of our schools are in African-American neighborhoods, and if we close the schools that I recommend, most of our schools will still be in African-American neighborhoods," Davis said at a rezoning hearing last month, according to the Atlanta Journal Constitution. "Race is not a factor in this."
The flier was created by Nathaniel Dyer, organizer of Going Against All Odds for our Young People. Dyer doesn't have children in the system, but told WSBTV that he opposes Davis' plan because he thinks it unfairly targets black schools for closure, calling the flier "psychological warfare."
"I don't have children, but that's no excuse for me not to use my talents, abilities and time to speak out," Dyer told Creative Loafing Atlanta. "It's all about the children. It's not about me… All I'm doing is painting a picture. It's not a personal attack on the man -- it's about the perception of the decisions he's made."
Still, those who were distributed the flyers didn't take positively to the image or message. Rev. Claiborne Jones called it "appalling, disgusting, crass, bigoted, incendiary."
"I really think that's over the top," Joyce Grangent, who is fighting to save an elementary school slated for closure, told WSBTV. "While we don't agree with the superintendent's decisions, I definitely would not classify him as a Klansman. So i think that's over the top."
Dyer said he plans to keep handing out the fliers despite neighborhood opposition.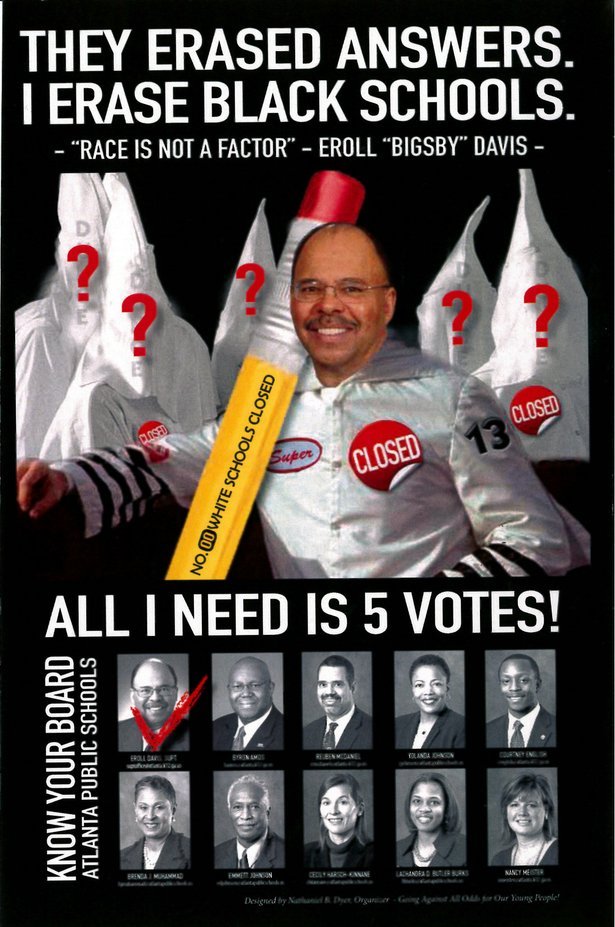 Other controversial school-related documents from around the country:
Controversial school-related documents from around the country
In January 2012, parents of students at Beaver Ridge Elementary School in Norcross, Ga. expressed outrage over the school district's response to reports of using examples of slavery in math word problems. The word problems in questions include references to slavery and "beatings."

In March 2012, students at another Georgia school were given a math problem that referenced slavery, upsetting students and parents. Nearly 140 fourth grade students at James A. Jackson Elementary School contained an extra-credit question that read, "A plantation owner had 100 slaves. If three-fifths of them are counted for representation, how many slaves will be counted?"

In February 2012, Roosevelt High School in Des Moines, Iowa received criticism for a class assignment on the Cold War. Based on a worksheet handed out in a social studies class, many questioned whether the lesson promoted communism over capitalism, calling it "communist indoctrination."

A Washington, D.C. teacher was fired from Center City Public School's Trinidad campus in March 2012 for sending home violent, morbid and traumatizing math problems to third graders. Questions included story lines about baking humans in ovens and a child waking up screaming after thousands of fire ants made a nest in a human brain.

A teacher was suspended and handed disciplinary action in March 2012 for a question she wrote on a vocabulary quiz that some argued was racist. When district officials reviewed the test in context, however, the charges against her were rescinded.

Sawgrass Elementary School in Sunrise, Fla. made the news in April 2012 when a second grade student was included in a class photo despite not having turned in a parental consent form. Instead of retaking the photo, the photographer resolved to paste a brown-colored smiley face over the boy's face.

A letter sent home with students at Western Union Elementary School in North Carolina didn't sit well with parents in March 2012. The note asked students to wear "African American attire" or animal print for a Black History Month event, calling into question educators' choice of words and cultural sensitivity.

In April 2012, flyers with an image of Atlanta Public Schools Superintendent Erroll Davis in a Ku Klux Klan robe sparked controversy in the community. The bill was in response to a contentious school redistricting plan that would have closed several schools in a number of Atlanta's black neighborhoods.