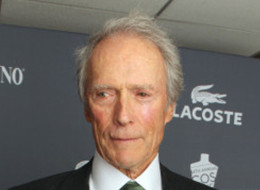 Looks like Marlon Brando and Clint Eastwood have another commonality besides Hollywood legend status: furniture scandals!
Coming off the heels of Brando's estate going after Ashley Furniture for its same-named sectional, Eastwood is in a legal snafu with Evofurniture, a furniture company (and adjoining website Inmod.com), for selling entertainment centers, ottomans and chairs fashioned after the famous director.
Eastwood states that Evofurniture is "continuing to use Mr. Eastwood's name, identity and persona for the purpose of attracting attention to the infringing products..." And hold your are-you-feeling-lucky jokes, the furniture's marketing scheme is chock full of them:
"When you're invited into a person's home, you get to see the good, the bad and the ugly. When visitors come to your home, the Clint 47'' Entertainment Center makes your family room alone look like you live in a perfect world of a million dollar baby."
However bad the references may be (so bad!), Eastwood's looking for an injunction against all uses of his name as well as unspecified damages.
Fingers crossed Clint told the company, "Hey, I tried being reasonable, I didn't like it."
[via THR]
Writer Art Buchwald sued Paramount Pictures, claiming that they stole his idea for 'Coming to America.' Buchwald won the lawsuit.

The movie's screenwriter, Benedict Fitzgerald, sued Mel Gibson over not paying him enough money for the film. They settled out of court.

Another movie that spawned a ton of legal trouble: writer/star Sacha Baron Cohen was sued for defamation as well as using footage of people without their permission.

What hasn't 'The Hangover, Part II' been sued for at this point? First the filmmakers were hit with a lawsuit alleging that they copied Mike Tyson's face tattoo without permission. That was dropped, but then they were sued again by a stunt man who suffered injuries on set. (That lawsuit is still pending.) A man also sued the filmmakers, claiming that they stole his life story and used it for 'Hangover, Part II.' Yeesh.

The family of a Louisiana store clerk, who was shot by a young couple on a crime spree, sued Oliver Stone, claiming this movie inspired the crimes. The lawsuit was eventually dropped.