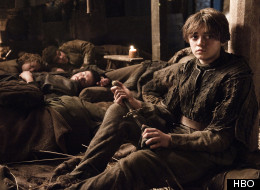 There will be many hellos and goodbyes this week on TV.
"Glee" (Tues., 8 p.m. ET on Fox) is coming back with a bang. The spring premiere will solve the terrifying cliffhanger of Quinn's car accident and Matt Bomer will appear as guest star Cooper Anderson, Blaine (Darren Criss)'s hot shot older brother.
Additionally, James Van Der Beek will make his small-screen comeback with the series premiere of "Don't Trust The B---- In Apartment 23" (Wed., Apr. 11 at 9:30 p.m. ET on ABC) alongside Krysten Ritter and Dreama Weaver in the New York City-based sitcom. And Lena Dunham's quirky "Girls" will make its critically-acclaimed debut on Sunday, April 15 on HBO at 10:30 p.m. ET.
And while this week's lineup may be full of beginnings, TV is also jam-packed with finales: "Lost Girl" on Monday, "Justified" and "Body Of Proof" on Tuesday and "Up All Night" on Thursday.
Click through our slideshow to see what else is worth watching this week.
"How I Met Your Mother" (8 p.m. ET on CBS) Ted, Marshall and Barney embark on another "trilogy time," where they get together every three years to watch the "Star Wars" trilogy and envision what their lives will be like in another three years. Meanwhile, Barney and Quinn move in together.

"Bones" (8 p.m. ET on Fox) With the help of Special Agent Genny Shaw (guest star Tina Majorino), the Jeffersonian team identifies the remains of a discount shopper and "extreme couponer" who was dragged along the road by an 18-wheeler. Meanwhile, Brennan is adjusting to her first day back at work after giving birth, and Cam disapproves of her daughter's romance with intern Finn Abernathy (guest star Luke Kleintank).

"Hart of Dixie" (9 p.m. ET on The CW) Zoe has conflicted feelings about seeing her estranged father, world-renowned surgeon Ethan Hart (guest star Gary Cole), who has agreed to travel to Bluebell to perform surgery on George's father as a favor to Zoe. Fearful of losing George, Lemon (Jaime King) decides she must befriend Zoe in order to prevent her from telling George about Lemon's affair with Lavon.

"Lost Girl" (10 p.m. ET on SyFy) season finale The secrets of Bo's past are revealed and a war between the Light and Dark Fae looms.

"Smash" (10 p.m. ET on NBC) The show has landed a star, the mercurial Rebecca Duvall (guest star Uma Thurman), but Eileen is thrown into a panic when Rebecca gets stuck in Cuba. Derek puts Karen in as understudy, but she must learn to perform under extreme pressure as he threatens to break her will. Tom and Julia celebrate their anniversary with a ritual -- and face some hard truths about what show business can do to relationships.

"Glee" (8 p.m. ET on Fox) After the winter cliffhanger, there are a lot of questions still to be answered in the spring premiere, but we have a feeling they're all going to be eclipsed by guest star Matt Bomer's extreme attractiveness. We don't know much about the episode aside from this single sentence teaser from Fox: Much to Blaine's chagrin, his big-shot Hollywood actor brother, Cooper (guest star Bomer), comes to visit ... and they sing Gotye's "Somebody That I Used To Know."

"Cougar Town" (8:30 p.m. ET on ABC) Here's hoping ABC actually airs this episode, since we've had two weeks of soul-crushing "DWTS" recap episodes in its place. Travis wants to take Jules and Grayson's wedding pictures, but Jules, who wants everything to be perfect for her second wedding, isn't so sure. Meanwhile, Bobby wants to get serious with Angie (guest star Sarah Chalke), but does she feel the same way?

"Justified" (10 p.m. ET on FX) season finale After the murder of his friend, Raylan is a man on fire as he goes after anyone and everyone he holds responsible on the way to a bloody final showdown.

"Body of Proof" (10 p.m. ET on ABC) season finale When a cause of death seems all too familiar, Megan is forced to come face-to-face with a serial killer she helped put away.

"Don't Trust The B---- In Apartment 23" (9.30 p.m. ET on ABC) series premiere This hilarious addition to ABC's comedy line-up is very similar in tone to "Happy Endings," so "Apt 23" should fit into its timeslot well. (It's worth watching for James Van Der Beek's deliciously meta performance alone.) June (Dreama Walker) moves to Manhattan for a dream job and the perfect company apartment, only to have them disappear in a puff of reality, thanks to a CEO from the Bernie Madoff school of embezzlement. Deep in debt and out on the streets, June scrambles to land a job and a place to live. It seems that her luck has turned when she gets hired at a coffee shop and finds Chloe (Krysten Ritter), a charming, vivacious roommate -- but one with the morals of a pirate. Chloe soon swindles June out of all her savings, but she and her snarky friend, James Van Der Beek (playing himself), come to learn that, just because June's naive, she isn't stupid. June ingeniously turns the tables on Chloe, who is so shocked about being scammed herself that she decides to pull June into her colorful band of friends.

"Randy Jackson Presents: America's Best Dance Crew" (10 p.m. ET on MTV) season premiere Season 7 marks the return of "ABDC's" "Season of the Superstars," as each episode centers around hit songs from the hottest names in music.

"Psych" (10 p.m. ET on USA) season finale After over 20 years of searching, the body of Veronica Towne has been found, and Shawn, Gus and Henry reopen the case and revisit all the old suspects, including the son of a millionaire who was dating her at the time she went missing. Rob Estes, Lolita Davidovich, Amanda Schull and Max Gail guest star

"Community" (8 p.m. ET on NBC) When Britta's old flame "Blade" (guest star Kirk Fox) returns to town with the traveling carnival, she confesses to the group that she needs their help to stay away from him. While Annie, Troy and Abed scheme to keep her occupied and away from Blade, Jeff and Shirley head to the carnival to get a look at the mystery man. Meanwhile, Dean Laybourne (guest star John Goodman) enlists the help of Dean Pelton to convince Troy to join the Air Conditioning Repair Annex.

"Touch" (9 p.m. ET on Fox) Martin gets his laptop stolen on the day Jake is scheduled for an important evaluation. As a result, he becomes ensnared in a young Salvadoran woman's quest to avenge the death of her family. Meanwhile, Teller (guest star Danny Glover) tries to reconnect with his estranged daughter. Also, a spirited Saudi Arabian girl tries to break free of the societal constraints imposed on her and a Montreal doctor attempts to meet a stranger on a train.

"Up All Night" (9:30 p.m. ET on NBC) season finale When Reagan loses her engagement ring, a Brinkley family heirloom, Chris uses the opportunity to give Reagan the proposal he was never able to give. In order to cover up losing the ring, Regan must seek out her worst enemy -- Chris' grandmother (guest star Marion Ross). Meanwhile, Kevin (guest star Jason Lee) returns and tries to win Ava back with the help of Julian (guest star Chris Diamantopoulos).

"ACM Presents: Lionel Richie and Friends -- In Concert" (9 p.m. ET on CBS) special presentation A special concert event of country music collaborations with the legendary Lionel Richie, featuring duets from his new album "Tuskegee," along with solo performances. Some of Richie's greatest hits will be performed by today's hottest country artists including Jason Aldean, The Band Perry, Luke Bryan, Sara Evans, Lady Antebellum, Martina McBride, Jennifer Nettles and Rascal Flatts. Duets with Richie include: "My Love" with Kenny Chesney, "Sail On" with Tim McGraw and "Lady" with Kenny Rogers.

"Fringe" (9 p.m. ET on Fox) Walter travels to the Alternate Universe to assist in the investigation of a Fringe event with ties to both worlds. Meanwhile, David Robert Jones reveals his next target.

"Say Yes To The Dress: Bridesmaids" (9 p.m. ET on TLC) season premiere The show gives a behind-the-scenes look at the inner workings of the booming bridesmaids salon at Atlanta's Bridals by Lori. Viewers will continue to see the drama behind finding a gown that meets the expectations of a diverse group of demanding (and sometimes difficult) bridesmaids. With the help of a group of outspoken consultants, these wedding day divas must come to an agreement on a look that pleases the entire party. Unfortunately, the style disagreements, opinionated bridesmaids and hefty price tags are enough to cause the bride's fantasy wedding to turn into her worst nightmare.

"Titanic" (8 p.m. ET on ABC) miniseries premiere Written by "Downton Abbey" creator Julian Fellowes, this re-telling of the doomed voyage weaves action, mystery and romance over four hours and two nights of programming. Shot in Budapest, Hungary, it features both fictional and historical characters, ranging from steerage passengers and crew to upper class guests and staff, who all come together in an explosive and unforgettable finale. Each hour follows similar events from different points of view, culminating in a cliff-hanger and building to an explosive conclusion in the final hour that draws together all the stories. Viewers will be taken on a heart-wrenching journey through Titanic's last moments, as it's revealed who among the characters they've come to know so well will survive, and who will not.

"Being Human UK" (9 p.m. ET on BBC America) season finale The Old Ones have arrived and are intent on taking over the world by force. Cutler has other plans, but when they go awry, he begins to plot his revenge on his own kind. Tom and Hal have their own plan to destroy the vampires, but when Mr. Snow (Mark Gatiss), the vampire leader, visits Hal, he demonstrates the power he holds over our hero. Annie is conflicted and upset as she comes to terms with the fact that, in order to save the world, she's been tasked with the most difficult decision of her afterlife.

"The Good Wife" (9 p.m. ET on CBS) As Alicia counsels a client as to whether to accept a strict plea deal, she's distracted by Peter's newest political rival, whose actions force her back into the public spotlight. Matthew Perry returns as Mike Kresteva and Parker Posey returns as Vanessa Gold.

"Game of Thrones" (9 p.m. ET on HBO) At the Red Keep, Tyrion plots three alliances through the promise of marriage. Catelyn arrives in the Stormlands to forge an alliance of her own, but King Renly, his new wife Margaery and her brother Loras Tyrell have other plans. At Winterfell, Luwin tries to decipher Bran's dreams.

"NYC 22" (10 p.m. ET on CBS) series premiere This new procedural, co-produced by Robert De Niro, follows six diverse NYPD rookies as they patrol the gritty streets of upper Manhattan. With unique backgrounds, personalities and reasons for being on the force, the new cops will make their share of rookie mistakes while they figure out how to relate to their boss, each other and the people they swore to protect. The series stars Terry Kinney, Adam Goldberg, Leelee Sobieski, Stark Sands, Judy Marte, Harold "House" Moore, Tom Reed and Felix Solis.

"Girls" (10.30 p.m. ET on HBO) series premiere Hannah, Marnie, Jessa and Shoshanna are trying to figure life out. They've been living in New York for a couple of years, but they're still not sure what they want -- from boys, from each other, from themselves. And things aren't getting any clearer. Created by and starring Lena Dunham ("Tiny Furniture") and executive produced by Judd Apatow, the new HBO series takes a comic look at the assorted humiliations and rare triumphs of a group of girls in their early 20s.