Few things feel more glamourous than wearing a sparkly pair of heels. But rather than spend a ridiculous amount of money on one pair of shoes, create the look yourself with this Craft Of The Day. These bejeweled pumps were inspired by a much pricier pair by Miu Miu and can be made simply by applying rhinestones to heels you have at home. It's a cheap and easy way to give your wardrobe a boost. Keep reading for the how-to.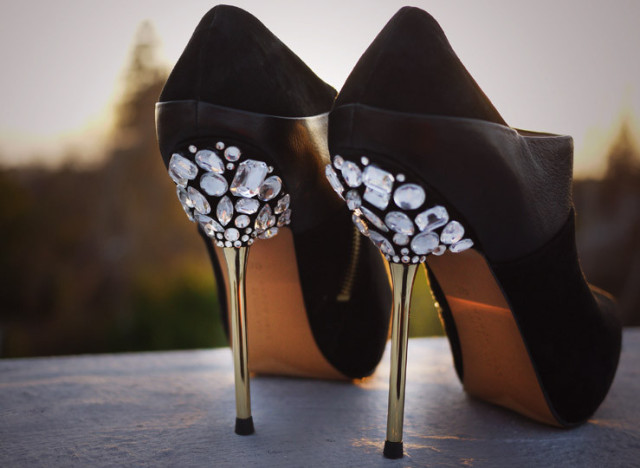 Photo by Erica Chan Coffman of Honestly WTF
What You'll Need:
A pair of high heels
Rhinestones in different sizes and shapes
Tweezers
Pliers
Strong glue
Small plastic dish
Toothpick
How To Make It:
1. Use your pliers to remove the rhinestones from their metal backings.
2. Squeeze glue into a dish.
3. Start with your larger rhinestones. Use tweezers to dip them into glue and press them onto the back of you shoe. Work your way down the heel as you glue.
4. Dip a toothpick into some glue and dab a little on the backs of the smaller rhinestones. Use them to fill in any gaps around your heel.
For a full tutorial, visit Honestly WTF. And, be sure to check out the other great crafts in our Craft Of The Day slideshow below.
PHOTO GALLERIES
Craft Of The Day