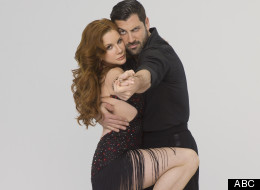 Melisa Gilbert was rushed to the hospital following an injury on the "Dancing With the Stars" set. According to The Hollywood Reporter, Gilbert left the set during the Mon., April 9 performance show after hitting her head and complaining of dizziness.
The "Little House on the Prairie" star tweeted her diagnosis from the hospital.
@MelissaEGilbert

Melissa Gilbert
I'm alright. Mild concussion and whiplash. Very soon I will be safely home resting and being taken care of.
During her paso doble, Gilbert hit her head on the floor. She hid the injury while receiving commentary for the "Dancing With the Stars" judges, but according to THR she told the other dancers that she was feeling dizzy and lightheaded. Fellow contestant Gavin DeGraw carried Gilbert down a flight of stairs from the skybox as Gilbert left to seek medical attention.
After the incident, Gilbert took to Twitter to thank DeGraw and praise her partner Makism Chmerkovskiy.
@MelissaEGilbert

Melissa Gilbert
@MaksimC
you are my champion. I adore you.
@GavinDeGraw
bless your heart for carrying me down those stairs!
"I think anybody would have done it," DeGraw told People after the show.
Chmerkovskiy showed his support for his dance partner via Twitter.
@MaksimC

Maksim Chmerkovskiy
So,
@MelissaEGilbert
. You're an ABSOLUTE ROCK STAR! You inspire me! Have so much more to say, but...... LOVE YOU!
For more "Dancing With the Stars," click over to HuffPost TV's recap.