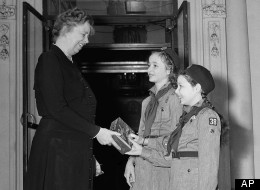 As Michelle Obama marks the one-year anniversary of her co-founding of Joining Forces, a national organization whose mission is to help military families, she underscores the long-heralded tradition of First Ladies highlighting the needs of -- and giving back to -- underserved populations.
Among its many empowerment initiatives, Joining Forces is working to find jobs for military spouses and is improving the education options for military children who are frequently on the move. Michelle Obama's determination to improve the quality of life of veterans and their families follows in line with benevolent First Ladies who preceded her, including the likes of Eleanor Roosevelt who met with troops heading off to fight in World War II, and Hillary Clinton, who advocated for the rights of older unadopted children. Read our slideshow below to learn about other inspiring First Ladies who used their position to help those in need.
SLIDESHOW:
First Ladies' Charitable Causes
Dolley Madison, wife of President James Madison, was the first First Lady to formally associate herself with a cause, according to Firstladies.org. Madison helped found an orphanage for young girls in Washington, D.C., and maintained a lifelong connection to the organization.

Although she was the niece of bachelor President James Buchanan and not his wife, Harriet Lane was nevertheless considered the First Lady of the Buchanan White House, according to Firstladies.org. But, similar to other benevolent wives of our presidents, Harriet committed herself to two underserved populations that needed help -- Native Americans and children.

Ellen Axson Wilson, the first wife of Woodrow Wilson, died young, but made a big impact during her short life, according to Firstladies.org. She joined a campaign to get rid of the slums in the Washington, D.C. area, and advocated for improved housing and child labor laws.

When President Warren Harding was first elected to the U.S. Senate, his wife began advocating for the rights of returning World War I veterans. According to Firstladies.org, Florence Harding launched the "Lest We Forget" Week to encourage donations of books and clothing to returning soldiers. She was also known to pick up wounded veterans on the street who needed a ride.

First Lady Grace Coolidge, the wife of President Calvin Coolidge, had always been interested in education -- especially for the deaf. During her husband's presidency, Grace became a trustee for the Clarke School for the Deaf, and was also involved with the American Red Cross during World War I, according to Firstladies.org.

Before becoming First Lady, Lou Henry Hoover worked as an organizer for the American Red Cross' Canteen Escort Service, which transported wounded soldiers home during World War I. Her support for the troops was honored by King Albert I of Belgium, according to Firstladies.org.

During World War II, Eleanor Roosevelt supported the troops by volunteering with the American Red Cross, where she handed out cups of coffee, newspapers, sandwiches, candy, and cigarettes to soldiers heading out to army camps and ports, according to the American Red Cross. "I loved it," the organization quoted her having said. "I simply ate it up."

After her son Neil was diagnosed with dyslexia at a young age, First Lady Barbara Bush began championing the cause when she founded the Barbara Bush Foundation for Family Literacy, according to Firstladies.org.

While serving as First Lady, now Secretary of State Hillary Rodham Clinton led the effort on the Foster Care Independence Bill, which helped older unadopted kids transition successfully into adulthood, according to Firstladies.org.

Still enjoying her role as First Lady to President Barack Obama, Michelle Obama has been vocal about three issues during her husband's administration: Helping working mothers, providing support to military families, and encouraging voluntarism, according to firstladies.org.